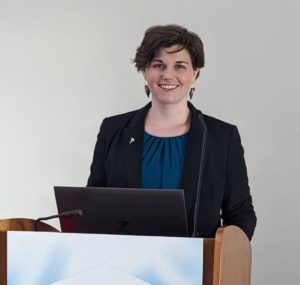 While many workplaces are working to include diversity training in employee onboarding and ongoing training, being an inclusive workplace goes beyond racial and cultural awareness, says Molly King, OD. Dr. King presented a lecture at the American Academy of Optometry meeting in San Diego, Taking Pride in Inclusivity.
In the past year, the demonization of the LGBTQIA+ communities has taken dangerous turns, she says, with the recent shooting in a Colorado nightclub being only one example. The issue remains a political hot button issue, even as the Respect for Marriage Act to codify same-sex and interracial marriages through federal protections appears to be heading to the president's desk.
Dr. King says that it's important for eye care practices to be seen as safe and inclusive health care providers for patients in these communities. Her presentation focused on both the ocular complications that are more prevalent among patients in these communities and the barriers to care. She also discussed the perspective on inclusive education and how to create a safe space for both patients and staff, as patients and staff do not necessarily volunteer this information.
"We must learn how to become a competent provider for our patients and be an ally for our employees as well," she says. But awareness and resources are often lacking, she says. While some optometry schools do offer any sort of LGBTQIA+ clubs or resources, she is not aware of any profession-wide resources or advocacy groups.
Most ODs are familiar with ocular conditions that manifest with certain behaviors or conditions, such as smoking, alcohol use, mental health issues, use of psychotropic drugs and sexually transmitted diseases; these may be prevalent among patients in these communities.  Some are lesser known, such as poppers maculopathy – poppers are alkyl nitrite compounds inhaled for their sexual enhancement and psychoactive effects.
WHAT PRACTICES CAN DO
There are plenty of simple yet effective ways that doctors and staff can make the office more inclusive. Dr. King, for example, typically wears rainbow pins or earrings. It's a visual reminder that she's an ally to the community. The changes don't have to be "radical or revolutionary," she says. They just have to be in the right direction.
"Providers can implement education and training for themselves and their staff," she says. This includes communicating to all patients in an inclusive way and asking what their preferred pronouns are. "Explore your own biases. Reassess your paperwork and ask about spouses and partners rather than husbands and wives," she says
Consider adding photos on the website or brochure of nontraditional families. Group frames by size or style or color rather than gender. For locations that have more than one bathroom, make them accessible to all, not defined by gender.
In February 2022, a Gallup survey found that 7.1 percent of U.S. adults identified as LGBTQIA+ – more than double the rate just 10 years earlier. Among Gen Z adults, that climbs up to more than 20 percent. So taking steps to show that yours is an inclusive practice can help patients who are trying to decide which doctor to see.
Finally, don't expect perfection in your efforts. Even as a member of the community herself, Dr. King says that she has made mistakes in using the wrong name or pronoun. When that happens, she apologizes and learns from it. "it's about learning how to acknowledge and apologize. Treat everyone like a human."