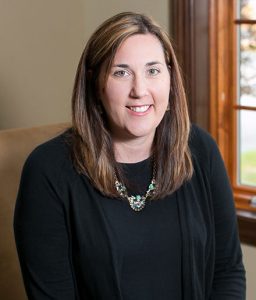 Ashley Springston, OD, is truly invested in the patient care experience at Professional Eyecare Associates and Eyewear Designs. She's been working at the practice since she was 16, and her father J.D. Springston, OD, founded the business in 1975 and relocated the office to Huntingburg, Indiana, in 1978. Since then, a secondary office was opened in Jasper, five miles away. "We have are always looking for different ways motivate the staff involving a group effort," Dr. Ashley Springston says. They look for initiatives that not only recognize specific individuals who go above and beyond but also bring everyone together to work as a team. These efforts create a happy workplace and a caring, professional place for patients to receive eye care.
That's important in a space where there is a great range of experience across the 14 staff members who float between the two locations. Their office manager has been with the practice the longest for 36 years. "We also have some who have been on the team for 13-14 or 10 years, and our newest staff is here for a few months," Dr. Springston says.
In January, the practice launched a new idea: the kindness box. Staff members contribute when they witness coworkers doing extra for patients or helping each other. They drop in a note when "they see someone walk a patient who has trouble walking out to his or her car, or they will stay late or trade schedules with each other to give someone a needed day off," Dr. Springston says. "These are the little things that separate you from the rest." Other kind gestures have included cleaning snow off coworkers' vehicles, volunteering to work for a coworker that had a family emergency and helping a patient with an Rx discount card, saving the patient hundreds of dollars a month on glaucoma medications.
When staff members put a card in the kindness box, they are also supposed to tell the person who the card was written about. "It makes you feel good. It has really been uplifting as a team effort and the staff love to tell each other when they put coworkers' names in the box."
The practice holds monthly staff meetings, and they announce the winners there. The person who gets the most cards in the box gets a $200 bonus for the month, and the member who nominates the most coworkers gets a S'well bottle. "I call it the happy box because when they get their bonuses, they are all happy," Dr. Springston says, laughing. She says that she and her practice partners are pleased with the results of this new initiative.