By Whitney Hauser, OD, Founder, Signal Ophthalmic Consulting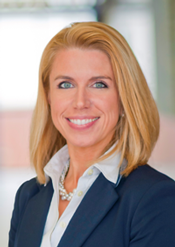 Beauty is not a bad word. Here are five ways to accentuate aesthetics and differentiate your practice.
Supplements. Far and away, the easiest way to dip your toe into the aesthetics pool is by adding vitamins. Supplements promote not only beauty but also wellness. Championing overall health appeals to Millennials, Boomers and everyone in between. Omega-3 fatty acids have significant benefits for the ocular surface and are often prescribed in eye care. The same anti-inflammatory properties that work for patients with meibomian gland dysfunction also have been shown to decrease some of the effects of aging, too. Research has found positive results of omegas-3s in combating cardiovascular disease, dementia, hypertension and depression, all of which have a significant impact on aging and wellness.1
Products. "Cosmeceuticals" is a modern term that has caught fire with medical practices and consumers alike. While not recognized by the FDA, Cosmeceuticals have found their way onto the shelves of many practices and emerged as a $30 billion industry.2 Hyaluronic acid, alpha hydroxy acid, glycolic acid and retinol are among the most popular active ingredients. Fine lines and wrinkles around the eyes are often some of the first signs of aging that patients notice. Some topical creams have been designed exclusively for eye care concerns. Offering a product or line of products that addresses those concerns benefit both patient and practice.
Injectables. If your patients don't have the patience required for topical treatments to work their magic or want a quicker bang for their buck, injectables will bring them the look they want almost immediately. Botulinum toxin A products like Botox, Dysport and Xeomin begin working days after treatment and last for three months to a year. Botox has its roots in eye care since it's been used to treat strabismus for many years. Dermal fillers like Restylane, Artefill and Juvederm fill in wrinkles and give volume skin as it ages. Many patients experience hollowing under the eyes and fillers can return them to a fuller, more youthful appearance. Injectables are not without risk. Patient may experience minor complications like bruising and redness up to more serious ones like allergic reaction. Contracting with a nurse practitioner or medical doctor to provide services in your office is very feasible and allows you to add to your menu of offerings.
Treatments. Many treatments recommended for their ocular benefits may have secondary cosmetic effects. Many patients report improved appearance after thermal pulsation treatment; noting less lid edema/redness and less hyperemia. The impact of that should not be undervalued. Often practitioners are to be commended for their attention to the patient's condition. However, they should be scolded for their failure to recognize how the patient's appearance plays a huge role in his or her life and self-esteem. Intense pulse light (photofacial) is gaining popularity in the treatment of dry eye disease. It was serendipitously discovered that patients treated for ocular rosacea noticed a decrease in their dry eye complaints. Reciprocally, patients treated with IPL have dermatological benefits like reduced redness, more even skin tone and a decrease in age spots. As a minimally invasive procedure, it can be done over a lunch break without the down time associated with deeper chemical peels and lasers.
Contact lenses. Breathe new life into classic services. Colored, or cosmetic, lenses fell by the wayside for many years, but there's been a resurgence in popularity with innovative products offering a wide array of choices. If your patient wants to change their eye color or put a "twinkle" in their eye, new lens choice have them covered. Many doctors are motivated by practicality or function and don't drive the conversation toward the frivolity of color. Yet many patients love changing their look so easily just for fun or special occasions.
Practitioners are always searching for ways to distinguish themselves from the pack. Add something to your office that makes you passionate. Passion is the force behind success. Without it nothing flies, and with it the sky's the limit.
*Disclaimer: items discussed in the piece are subject to each state board's approval.
1.Riediger, Natalie D., Rgia A. Othman, Miyoung Suh, and Mohammed H. Moghadasian. "A Systemic Review of the Roles of N-3 Fatty Acids in Health and Disease." Journal of the American Dietetic Association (2009): 668-79. Print.
2."Global Cosmeceuticals Market Outlook 2016." — LONDON, May 15, 2014 /PRNewswire/ –. 15 May 2014. Web. 30 Oct. 2015.