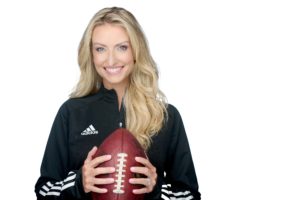 Sports vision is an overlooked area of specialization, says Amanda Nanasy, OD, of the Florida Institute of Sports Vision in Pembroke Pines, Florida. The most effective way to build that practice is to talk about sports with all patients. "Performance vision isn't just for elite athletes or even college athletes," she says. "A parent will spend $400 on a bat for their child but doesn't think of bringing them to an optometrist – who has the tools to help them in important ways."
One of the newer tools Dr. Nanasy has in her toolbox is the ALTIUS® Performance-Tinted Contact Lens, exclusively distributed by ABB Optical Group. She had used Nike MaxSight performance tinted lens when she first came out of optometry school, but she wasn't able to use it long before it was discontinued. But the developers behind ALTIUS knew of her interest and encouraged her to be a beta test site.
ALITUS is available in two performance tints with additional tints in development. She introduces the amber lens to any fast-ball athletes and others who are in glaring sun at times but cannot always wear their sunglasses and a grey/green lens that is helpful for many recreational athletes. The ALTIUS boxes also feature icons of the sports where vision is enhanced effectively, which is a helpful reminder for the provider.
Another big change from earlier performance-tinted lenses is that ALTIUS is a daily disposable, spherical lens available in plano or in powers from -0.50D to -6.00D in 0.25D steps. These lenses filter 100 percent of UV light.
LET ATHLETES TRY IT
Dr. Nanasy is already seeing great interest in this lens in her sports vision practice, but she says a practice doesn't have to be a specialty practice to benefit. "My strategy was to roll it out with my teams. The athletes love them because they appreciate the reduction of excess light in the south Florida sun and the pop of contrast that they see," she says. Once she puts these lenses on eyes and has the athlete try it in a game or practice situation, the impact is almost immediate. "When I've been able to introduce it to even one player, it spreads like wildfire among the team," she says.
Athletes tell her that the lenses provide an almost high-definition effect. "They tell me that they're able to see the ball better than ever before.  And we get inquiries from coaches and trainers who notice the improved performance on the field."
She encourages ODs in community practices to work with high school teams and coaches or trainers. "Athletes want to play their best, and here's a tool that can help them see better, react faster and play better. All we have to do is connect the dots," she says.
GET SOME TESTIMONIALS
Even if your patients don't include members of an NFL team, there are still great testimonials to be gathered. Dr. Nanasy recently provided some pairs for a young baseball player to wear. He wore them to practice the next day – and his mother called to order the 90-pack. "Since then, he has hit some crazy home runs. He told me that he has done great in practice every day–except for the day he forgot to bring his ALTIUS lenses." When patients have great results like this, Dr. Nanasy encourages practitioners to use these stories to encourage more athletes to call the office. "I asked him to send me a photo of himself with his gear and with his lenses on, with a quote and a signed media disclosure form," she says.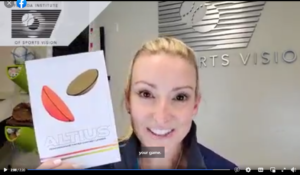 On a marketing note, the reddish tint of the amber lenses on the wearers' eyes generates questions and interest from teammates, coaches and media. Dr. Nanasy says she was surprised to hear local and national media commenters talk about what her college and pro team athlete/patients were wearing. "People notice! You don't get many products in your office that market themselves, so when an athlete wears these, people will ask," she says.
OPPORTUNITIES FOR PRACTICE
Because the plano and corrective lenses require a fitting and prescription, it also ties into the general goals of an optometric practice. Athletes and their parents can buy many products to enhance their performance online, but to get these ALTIUS lenses, the patient must see an eye doctor. "Plus, this is not the only product you will be prescribing," she says. Patients who need vision correction are great candidates for daily disposable lenses, prescription sunwear and more."
Whether the athlete is a professional or someone who spends time on the golf course or bike trails, they want to see their best so they can perform their best. ALTIUS is a great way to make a connection with patients, as well as provide an entrance into the vast opportunity for providing more performance enhancement care, she says.
Learn more about ALTIUS Performance-Tinted Contact Lenses here.