Her son's preschool gave Stephanie Lyons, OD, one of her best ideas for removing some of the fear factor for kids coming into her Chicago, Illinois, Lyons Family Eye Care. The preschool had made what it called "a social story" to help reduce first-day-of-school anxiety. Using photos and kid-friendly language, the online story helped kids know what to expect.
Dr. Lyons realized that it could help her young patients reduce their anxiety, too. She created a fun 20-page PDF that's posted on the pediatrics tab of her website and calls it the "office tour." It explains every step of the process, from looking for the bright orange awning of the building, what they'll see when they walk in, the pretesting and an invitation to sit in the big orange chair.
The guide also takes the pressure off the idea that kids need to do well. One page says, "You will cover one eye and tell us what picture, shape or letter you see on the TV If you can't see it or are unable to tell us what it is that's okay too Just do your best!"
There are photos of all doctors, so young patients already have that introduction. And kid-friendly, non-technical terms are used. For example, during the eye exam, the doctor will look at their eyes using "different flashlights" or "They wear a silly flashlight hat that helps them look into your eyes.
The guide has put children—and their parents—at ease. "Often, it's the parents who are quite anxious because they don't really know how to prepare their child.
TIPS TO REDUCE ANXIETY
Although the "office tour" is the newest tool in helping kids feel comfortable, Dr. Lyons has long been a kid-friendly practice. Here are some tips.
With a last name like Lyons, designing a fun mascot was easy.

Use bright colors and kid-size furnishings. Develop a fun logo; hers, appropriate of her last name, is a friendly lion.

Be ready with a joke when you walk into the exam room. That's the moment of highest anxiety, so starting with a laugh or even a groaner pun can put everyone at ease.
Minimize the wait. Have lots of activities available in the reception area and optical, and doctors should be ready to move quickly when a child is in the exam room.
Use no-drama drops. Dr. Lyons says that she often dilates children, but she has developed what she calls "no-drama drops" or "magic drops." She has patients tilt their heads back and close their eyes. She'll place the drops on their eyelid margins and has them blink. "It has helped us eliminate tantrums and tears 90% of the time. She uses that method on anxious adults, too. Or consider a dilation spray, she suggests.
Keep kids focused on their part of the optical. The kids' area has chairs, tables, a TV and games to keep their attention. That means there's less disruption to the rest of the optical, and kids have a great time.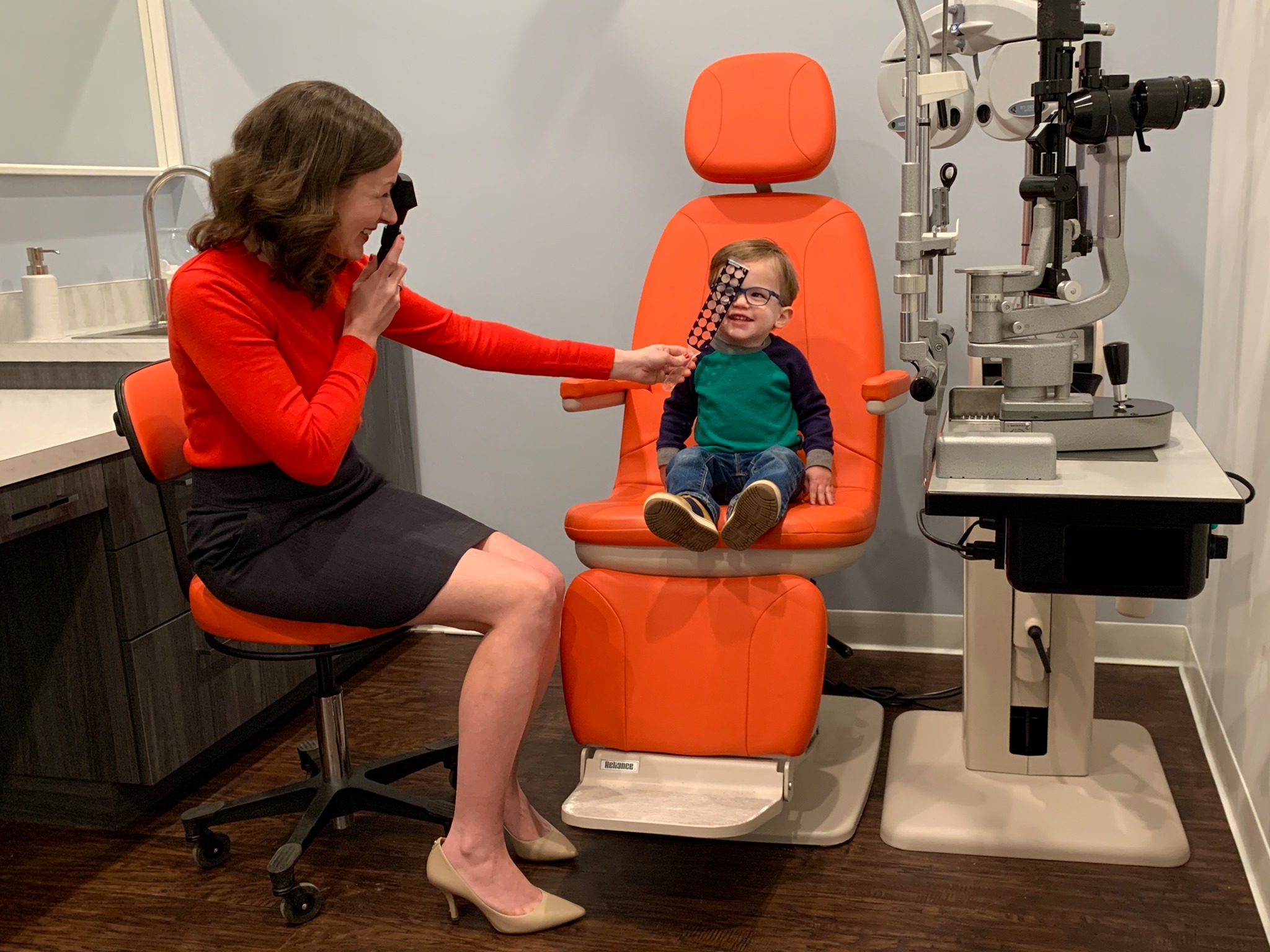 Dr. Lyons says that while she has always loved children and was an enthusiastic babysitter when she was young, she wasn't anticipating a specialty in pediatrics. "I say that pediatrics found me, not that I found pediatrics," she says. She's in a family-focused area of Chicago, and the practice has four doctors, three vision therapists and 15 staff across the two locations. She's also expanded her first location, taking over the lower level of the building she was in to create a vision therapy space. Last year, she expanded again, moving into space previously rented by a chiropractor.
"I am always looking for ideas to improve the practice to do what we do better. We're constantly striving to improve things," she says. Keeping children's visit anxiety-free has been a major factor in her rapid growth.
Read an earlier story that WO ran featuring Dr. Lyons and her new practice.