By Tracy Doll, OD, FAAO
This article is excerpted from Building Your Dry Eye Center of Excellence, a digital resource guide can be downloaded here.
Recent advances in diagnostic and treatment options for Ocular Surface Disease (OSD) have increased both doctor and patient need for clear direction when it comes to billing and coding. The ability to navigate this scene successfully ensures patients receive quality care that is within reach. Any patient identified to have OSD diagnoses in a standard vision exam (92004 or 92014) should return for medical care.1 OSD includes a host of medical conditions that require the same amount of diagnostic and treatment time as other complex ocular disease states (see Table 1 for a brief list). When coding ICD-10 diagnoses, the practitioner should seek to be as specific as possible, including eye or eyelid location and avoiding codes listed as "unspecified."2
Some medical insurance plans require a pre-authorization for continued medical treatment with utilization of E/M codes (992XX).2,3 Need for prior authorization should be determined before the patient's return. Some medical codes will be considered "below the line," meaning that even though there is a medical diagnostic code, the condition may not be considered "severe enough" to warrant coverage.
Conditions that are covered or "above the line" will be dependent on the patient's individual plan. The initial OSD work-up can be time-intensive and thus can warrant billing an E/M level 3 or 4 (i.e. 99214), while follow-ups generally run as a level 2 or 3 (i.e. 99213).2,3
During medical E/M visits, OSD diagnostic/point-of-care testing will fall under different billing strategies. Diagnostic/point-of-care tests that are considered part of the medical E/M visit are called "incidental." These tests do not have specific CPT codes.
Sodium Fluorescein Tear Break-Up Time
Tear Meniscus Height
Vital Dye Evaluation (Lissamine Green or Rose Bengal)
Phenol Red/ Schirmer 1 or 2
Meibomian Gland Evaluator (MGE by Johnson & Johnson Vision/Surgical Care)
Lid seal test
CPT-coded diagnostic/point-of-care tests can be billed along with an E/M medical office visit. Some may require a modifier (the full story lists these), and it also lists those CPT III-coded diagnostic/point-of-care tests that are not reimbursed. These CPT III codes include emergent technologies that may be covered someday in the future. Doctors can bill CPT III along with an E/M code, but expect that the test cost will be passed onto the patient. These include lipid layer thickness/tear film imaging, for example.
There are also advanced diagnostic tests that are not currently billable and do not have CPT codes. These would always be billed out-of-pocket. To ensure proper reimbursement, it's important to know which codes cannot be combined with E/M codes and which codes may also require a modifier.
The article in full details these treatments and codes as well as highlighted procedures that are categorized under "miscellaneous CPT codes," such as intense pulse light therapy, and treatments that have no code. These are not covered and would be out-of-pocket costs for the patient.
Managed care guidelines are clear that the eye care office must only offer one price per CPT code, no matter whom is covering the cost of the bill.4,5 To offer differing fee schedules for insured vs. out-pocket patients would be "discriminatory billing patterns" and can result in monetary damages to the practice.6 It is helpful to have a document prepared for OSD patients listing the cost of available services. This document should clearly state which OSD tests and treatments are not reimbursed by insurance (example: LipiFlow).
Every office should include paperwork requiring a patient signature clearly stating the patient is responsible for any procedures not covered by insurance. Clear documentation and discussions about the financial aspect of OSD therapies help prevent miscommunications and gaps in patient care and reimbursement.6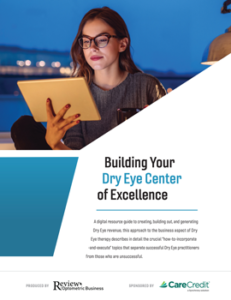 With Dry Eye among the most common ocular diagnosis, it is imperative that every eye care professional incorporates this specialty into their practice. But how do you successfully add dry eye care to the services you offer your patients while taking advantage of the financial benefits that will result?
Download this resource guide to learn from the emerging optometric thought leaders of the The Intrepid Eye Society to ensure that you are 'Building Your Dry Eye Center of Excellence.' Hear from Project Professional Editor Leslie O'Dell, OD, FAAO; as well as Justin Kwan, OD, FAAO; Jacob Lang, OD, FAAO; Mark Schaeffer, OD; Jade Coats, OD; Melissa Barnett, OD, FAAO, FSLS, FBCLA; Vin Dang, OD, FAAO; and Damon Dierker, OD, FAAO.
REFERENCES
Bedinghaus, Troy. Understanding Your Vision Plan Under Medicare. Very Well Health. Updated Jul 6, 2019. https:/www.verywellhealth.com/medicare-vision-benefits-3421607 Accessed Apr 3, 2020.

Chirumbolo, Antonio. The Ultimate Guide to Optometry Billing and Coding. Covalent Careers. Sept 13, 2019. https://covalentcareers.com/resources/guide-coding-and-billing-in-optometry/#download Accessed Apr 3, 2020.

Botts, Eric. Knowing Your Billing and Coding: Dry Eye. Review of Optometric Business. Mar 2012. https://www.reviewob.com/know-your-billing-and-coding-dry-eye/. Accessed Apr 3, 2020

Devries, Doug. Medical Economics of Dry Eye. Create New Revenue Streams by doing more for your patients. Optometric Management. Feb 1, 2016. https://www.optometricmanagement.com/supplements/2016/february-2016/make-a-splash-in-dry-eye/the-medical-economics-of-dry-eye. Accessed Apr 3, 2020.
Larson, Paul. Coding Update on Dry Eye Procedures. Ophthalmic Professional. Nov 19, 2019. https://www.ophthalmicprofessional.com/issues/2019/november-2019/coding. Accessed Apr 3, 2020.
Richman, Harvey. Basics in billing and Coding and Eye Exam. Paraoptometric Resource Center by AOA. https://www.aoa.org/Documents/optometric-staff/Articles/Basics-Billing-andCoding-Eye-Exam.pdf Accessed Apr 3, 2020.