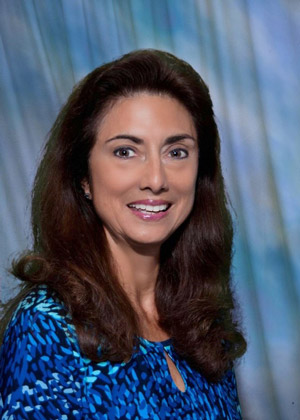 Caroline Guerrero Cauchi, OD, FIAO, of La Mesa, California, says that the field of myopia control has gained enough momentum that it won't slow down for a long time. "The momentum comes because the epidemic of myopia is increasing. Children are getting nearsighted at an earlier age, and myopia is galloping away. To me, it's not ethical to keep selling these patients new eyeglasses or contact lenses in 1.00D increments every year. It's a disease; we can stop its progression," she says.
Dr. Guerrero Cauchi is a private practitioner and serves on the board of directors for the International Academy of Orthokeratology and Myopia Control, as well as the American Academy of Orthokeratology. She's also the chair of fellowship testing for both of the academies.
Both organizations are focused on myopia control employing traditional and soft orthokeratology, pharmaceutical treatment, binocular training and behavioral interventions. "In many ways, orthokeratology is like orthodontia. It can make a huge difference to a child's life," she says.
Help patients access the care
Also like orthodontia, it can be expensive. Soft orthokeratology lenses cost about $500-$600 a year; orthokeratology with rigid
lenses costs more for the fitting, but the contact lenses might last longer. That's where CareCredit plays a role in her practice. "Our office accepts CareCredit credit card payments, so parents can spread these payments out over time."
Of course, there are elements of myopia control that cost no money at all. "We talk about changing behavior, such as encouraging
children to spend time outside and spend less time on their electronic device. In our office, we live and breathe ortho-K; we have a beautiful booklet that explains ortho-K and myopia in detail, talking about not only the pathology but also the social and learning issues that can result," she says. A PowerPoint video loops on the screen in the reception area every 15 minutes. A big portion of that is focused on ortho-K and the treatment options for myopia control.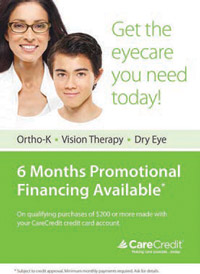 For patients who are serious about taking the steps to control a child's—or their own—myopia, paying with a CareCredit credit card can be a significant help. "We always present this when discussing payment options. If they use their CareCredit card, we tell them about 6- and 12-month special financing options, which makes it more affordable," she says.
Practice benefits
Offering ortho-K to patients is financially rewarding for the practice. Plus it's nice to see these kids return to the office every six months with little to no change in their myopia. For fun, Dr. Guerrero Cauchi and her practice partner, Jamie Starr Peters, OD, created a
video YouTube rap that plays on the practice website (YouTube: OrthoK Rap). The two doctors, decked out in their favorite team jerseys and baseball caps, jam on such memorable lines as "Hate playing sports while wearing glasses? Do you get Ds in all your classes?"
For practitioners who want to become more familiar with ortho-K as an offering in their practice, the academies offer two meetings a year. In April 2018, the American Academy of Orthokeratology and Myopia Control will hold Vision by Design 2018 in Orlando, Florida; and the International Academy held its meeting in conjunction with the European OrthoK Academy in Venice in November. Dr. Guerrero Cauchi says that it's important for ODs interested in ortho-K and myopia control to learn how to do it right. "You can't learn it in two hours, so we hold a 'Boot Camp for Newcomers.' We want doctors to feel confident, so we spend a day and a half going over the theory of how it works, how the lens is shaped, candidates, topography, safety and fitting techniques," she says.
Learn more about ortho-K, Boot Camp and the April 2018 meeting at orthokacademy.com.