Ashley Tucker, OD, FAAO, FSLS, Diplomate ABO, was in optometry school when her father was diagnosed with keratoconus. At the time his doctor said that they could prescribe a contact lens and see what happens. The results were practically miraculous. "The lenses improved my dad's vision to 20/30. That piqued my interest," she says, noting that she decided to do a residency in contact lenses following her 2010 graduation and after seeing what a life-changing impact the right scleral lenses could have.
The residency ended up being "the best experience of my life. I was thrown into specialty contact lenses including scleral lenses and orthokeratology and developed a passion for both but especially myopia management," she says. "I finished my residency and thought that I'd be in academia. I was offered a University of Houston College of Optometry (UHCO) position after I finished, and, while I was there, I took a part time position" at Bellaire Family Eye Care in Bellaire, Texas, solely owned at the time by Ann W. Voss, OD, FCOVD, Diplomate ABO.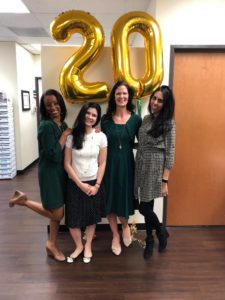 When Dr. Voss found out Dr. Tucker had done a residency, she invited Dr. Tucker to start a specialty lens practice within the primary care and vision therapy practice. Dr. Voss felt that would make the practice stronger and she could leverage her network to bring new patients in to see Dr. Tucker.
"At the time I worked at the one day a week and at UHCO four days a week. But that's flipped now. I teach a course two times a week, but most of the time I'm in the practice," she says. The practice has grown considerably since she joined; she became a partner about three years ago. One reason why is because of the significant increase in its pediatric clientele base and huge demand for myopia management services.
"Every day, 30 percent of the patients I see are myopia management, either follow-up visits or to implement the protocol," she says. The practice is much more streamlined and focused on myopia management than it was when she first starting seeing these kids.
"Back then, I was flying by the seat of my pants. I did things as they came. Now we have team members, such as an insertion and removal instruction team," she says. "Kids don't know how to put in contact lenses. But we have a support system, people on staff who can answer questions and allow me to focus on the medical care and developing treatment plans," she says.
PATIENT EDUCATION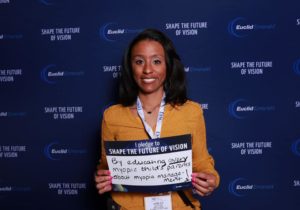 Before families sign on for myopia management, they need education about the options and possible results. More parents understand the impact of digital device use on eye fatigue, for example, but they still need to understand that myopia progression today looks different. About a quarter of the parents of children she sees come in prepared to discuss and treat myopia management. The other 75 percent require a longer discussion and consultation.
"I try to use true stories. I don't have anything scripted; it's different for everyone," she says, wishing that more ODs would mention to patients that there are interventions for children with progressing myopias. "I would like to see every OD say something like, 'We can do something about your child's myopia.'"
"Parents understand that we're living in a digital age. Our kids are exposed to so much technology– they're growing up different than we were," says Dr. Tucker. "So the likelihood of their children's myopia being worse than their worse is high."
DEVELOPING A TEAM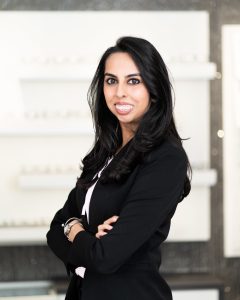 Aamena Kazmi, OD, Diplomate ABO, has also joined the practice, bringing her myopia management and dry eye specialties to the core set of strengths. Dr. Kazmi recalls getting her first pair of eyeglasses as a fourth-grader. "That drive home was fascinating. I knew then that I was going to be an optometrist when I grew up."
As she sat in classes at UCHO listening to the concepts of myopia management, she realized that she could offer therapies that would allow her patients not to follow her own experience of becoming progressively more myopic.
Dr. Kazmi is certified for fitting orthokeratology lenses and also the MiSight® lenses from CooperVision. "I'm committed to helping slow progression of myopia. So if I have a 45-year-old with a -8.00D prescription, I will ask if they have children. And I can explain that we've been doing very well MiSight."
Because MiSight is a soft contact lens, "it helps the conversation land more easily with parents" who might be hesitant about the overnight option of orthokeratology or try to instill atropine drops daily. She says that the Brilliant Futures program has also provided her with terrific patient education materials.
The myopia management services are likely to continue to increase as awareness rises about myopia and the impact of computer time. "We are seeing these young patients every three-to-six months, and it's bringing in siblings and other referrals. Plus, the buy-in from other providers is stronger. They're seeing that myopia is not just a refractive condition for which you update the eyeglasses prescription every year."
Dr. Kazmi and Dr. Tucker both see their efforts as potentially impacting the ocular health and vision of today's children for decades to come. "It's important to be on the front lines. With our digital demands today and our lifestyles, the demand for myopia management services is not going away."