Daily Disposable Contact Lens Option Gains Appeal 
SPONSORED BY ALCON
Water gradient technology in PRECISION1® contact lenses provide all-day comfort
Doug Hinson, OD, who with his wife Heather Hinson, OD, have private practices inside Walmart in Racine and Franklin, Wisconsin, are strong advocates for daily disposable contact lenses. "My patients who wear one-day lenses are happy; they're getting great comfort, vision and a healthy wearing experience," he says. That's why he and his four children, now grown, all wear one-day lenses. "When they were younger, I liked knowing that they were putting on a fresh pair of lenses each time that they wore them," he says. And for the one who broke three pairs of eyeglasses in a matter of days, a switch to contact lenses made sense.
As more people learn and work at home, spending hours on their digital devices, he is prescribing PRECISION1® daily disposable contact lenses to even more of his patients, he says. "Eyeglass wearers tell me that they're frustrated with their lenses steaming up," he says.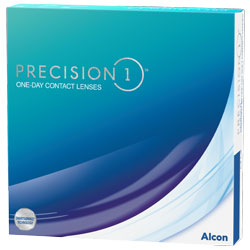 A reduced blink rate can also contribute to increased tear evaporation, leading to tear film instability.1 A stable tear film is vital to visual performance and comfort, especially for contact lens wearers.2 PRECISION1®, with SMARTSURFACE® Technology, helps to support a stable tear film.3 "The blink rate goes down when people stare at their electronic devices," he says.
That's when he recommends that they try PRECISION1® contact lenses, a silicone hydrogel daily disposable contact lens. "These lenses have been working very well for patients in terms of comfort and vision. Patients tell me that these contact lenses feel as good at the end of the day as they did at the start. Plus, PRECISION1® is offered at a mainstream price so it's a great value," he says.
Dr. Hinson offers patients a risk-free chance to try a switch, telling them they can always switch back to their habitual lenses.
PRECISION1® for Astigmatism is Now Available
Studies show that toric contact lenses provide better visual acuity than spherical lenses even for those with low-to-moderate astigmatism.4-6
PRECISION1® contact lenses are born from the Water Gradient Technology of DAILIES TOTAL1® and feature SMARTSURFACE® Technology, a microthin layer of moisture at the lens surface that exceeds 80% water.3
PRECISION1® sphere and toric lenses are now widely available in the U.S. to meet the needs of daily disposable contact lens patients.