By Jacquie Bowen, OD, FAAO
Dr. Bowen, of Greeley, Colorado, is a candidate for the American Optometric Association (AOA) Board of Trustees. She has volunteered with the AOA Professional Relations committee, volunteered and served as a member of the Engagement committee and currently serves on the Membership committee. Dr. Bowen asks for your vote at Optometry's Meeting.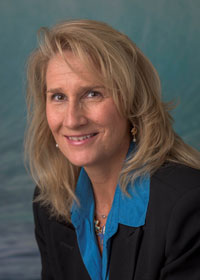 If optometry were a body, I believe that advocacy is the head, the brain!
Without it, nothing will work. As a member, I absolutely know that essentially all the work that the AOA does ultimately is about advocacy. It is imperative that optometrists continue to control the profession of optometry and the diligence and success of our advocacy efforts allows me to sleep at night.
It would be impossible for me to do my practice care, my family care and my personal care were it not for the work AOA does… I simply could not keep my head above water.
A brain needs big strong body of members.
All optometrists, AOA members and nonmembers, benefit from the success of our advocacy team. But more ODs should be members — not only because we can do more advocating with more dues dollars but also because more members means greater enrichment of our talent pool, and it expands our network reach and contacts.
You'll see the dolphin on some of my campaign materials because I have long seen dolphins as a great word picture of communication, collaboration and loyalty—three essential components to my own personal success and to the success of the AOA. Over the years, I have honed some specific skills:
Communicating and bridge-building. I am able to listen carefully to determine the root of an issue, and I work constantly to respond, not react, in discussion.
Teamwork. I have a solid understanding of where my strengths lie, and I am able to discern which members of the group are strong in other areas. It's not about being center stage, it's about everyone playing their part to orchestrate a successful outcome.
Loyalty. It's important to put the good of the family of optometry above individual success. If we are looking out for number one, we will crash every time. A wise and selfless leader knows that "#1" has to be what's best for the whole.
We're at a critical time in optometry, facing significant challenges yet also poised for greatness. We have powerful enemies who are seeking to destroy the doctor-patient relationship by expanding online services, diminish the value of the care we provide by paying us less and replace us with physician extenders who work directly for medicine. We need a strong AOA to meet those challenges.
We can meet those challenges. We know that our professional services will be in even more demand as the population grows and ages. And we have a changing workforce that can respond to these challenges. Recent research tells us that young ODs, the millennials, want to be engaged. These new doctors are actually not all about instant gratification and personal comfort. They want to make changes and take part in the action. We know that women members will become engaged when they connect with a meaningful mission. Optometry has a great cause, and when we are successful in communicating that cause, we can ensure our success as an association and as a profession.