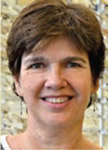 By Marjolijn Bijlefeld, Director of Custom Publications
The start of a new school year is, for many people, a little like New Year's Day. It feels like a new start and a return to order and regularity. If your own kids are back in school, huge swaths of the day and evening regain some structure. It's not necessarily easier, but it's generally a little more predictable.
For new optometry school graduates, the absence of the start of a new academic year is a big change, too. After 20 years of first days, these ODs are in for a little adjustment. For ODs who have worked at a breakneck pace in August seeing kids for back-to-school exams, the absence of a bunch of kids in the reception area probably looks a little different. That's the funny thing about kids. Even if they aren't in your family, they're in your community—and they are, literally and figuratively, the future of your practice.
So in this issue of Women In Optometry®, we raise a cheer for kids and the ODs who take care of them. In our cover story, we feature three ODs who are trying to unravel the knot of myopia progression, working to turn clinical findings into practice and sorting through contributing factors. On page 5, professional co-editors April Jasper, OD, FAAO, and Katie Gilbert-Spear, OD, MPH, discuss ways to promote pediatric services to medical colleagues, parents and the community. And on page 7, several members of the advisory panel share meaningful experiences with or about young patients. If you have a story to share about your work with children, we'd love to have you join the discussion on our Facebook page.
We hope you find inspiration in this issue: from office design to practice management strategies, tools and products that could work in your setting. Respondents to a WO survey reflect how some of their expectations following school were met while others weren't. We're going to keep looking at how expectations, needs and different criteria play important roles as women make career decisions.
Let us know how WO can continue to help you move your career in the right direction.