By Cathy Doty, OD, of New Bern, North Carolina
I was thinking over the holidays about my favorite Christmas movie, A Christmas Carol. There are so many amazing things about this story, but one that is often overlooked has to do with "Ole Fezziwig" who employed and apprenticed Ebenezer Scrooge when he was a young man.
Fezziwig was said to "keep well the spirit of Christmas" by closing his office early on Christmas Eve, and throwing a big party for his staff complete with a fiddler, dancing, food and drink. As an old man, this was one of Scrooge's fondest memories. Fezziwig was not a rich man, and did not aspire to be, at least in earthly riches. Yet, he created a happy work environment and treasured his employees. They loved him back and were loyal to him, all except for Scrooge.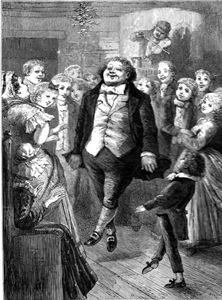 As Scrooge became more experienced, he received an offer to be paid more by another printer. Fezziwig did not want to lose Scrooge. However, he sincerely wished him well, confessing that if he could pay the same amount to Scrooge to keep him, he would. As the Ghost of Christmas Past revealed to Scrooge, he aged into a money miser, using money as the measure of success in his life. The rest of the story has transcended time.
Now, this is a book of fiction written by young Charles Dickens in 1843. I would argue that the Fezziwig Principle is one that we should never lose sight of, throughout the 12 months of the year. Cherish your staff, because they spend more time with your patients than you do. Do you foster a love and loyalty within your practice? Or, would any one of them leave you for 25 cents more an hour?
Take some time in 2016 and tell them what a great job they are doing, and maybe close early one day. Throw a party with a fiddler, dancing, food and drink! Keep the spirit of Christmas in your heart all year!