By Danielle Kalberer, OD, FAAO, Board Certified in Medical Optometry
It is no surprise that women are constantly searching for ways to obtain fuller, thicker, more noticeable eyelashes. From eyelash extensions to serums and growth factors, there is an entire sector of the beauty industry aimed toward doing just that. A 2018 Nielsen study reported $270 million in annual sales of eyelash enhancement products—up 30 percent from the previous year. The increase came along with a decrease in other eye makeup products such as eyeliners and mascaras.1
Our Role as ODs
According to a 2012 study, 97.5 percent of women who had eyelash extensions reported at least one complication after their treatment. Complaints included dry eye, discharge, eyelid swelling, burning sensation and itchy or tearing eyes.2 As eye care providers, we must be knowledgeable on the changing trends in order to best advise safe practices for our patients and to help prevent these sequelae. After an overview of the most popular options for eyelash extensions and lash-enhancing treatments, you will leave this article knowing the basic points to discuss with the patient in your exam chair asking for your expert optometric opinion.
Eyelash Extensions
There are three main factors to consider when evaluating eyelash extensions from an ocular-health perspective: lash material, adhesive material and removal process. The most common false eyelash materials are mink, silk and synthetic materials. Either a full-line, cluster or individual eyelash extensions are applied using various adhesives agents. A study investigating the impact of false eyelashes on ocular surface disease reported that most bonding agents are formaldehyde-based and contain latex components—both of which commonly elicit allergic reactions.3 Magnetic attachment methods are increasing in popularity (they are commonly associated with "do-it-yourself" lashes) and seem to be a safer option. Removing professional lash extensions generally requires a professional-grade solvent, coconut oil or an oil-based makeup remover. Removing lashes improperly or forcefully can lead to damage or loss of the natural lashes.
Eyelash Enhancements
There are also techniques to alter natural lashes by enhancing curl, contrast and/or length. We are already familiar with serums and growth factors such as Latisse and Zoria. The treatments to make natural lashes more curved and prominent are mainly a lash perm or lash lift. The perm and lift are similar techniques involving a chemical perming solution and a shaping device. Eyelash tinting can also be used to enhance lash definition and entails application of a peroxide-based dye (usually black or brown) to the lashes.
Patient Education and Recommendations
Urge patients to seek out a licensed esthetician working in a hygienic environment and to steer clear of cheaply made products or self-applications. Advise patients to ask which materials are being used for both lashes and adhesives. Educate patients on the signs and symptoms of allergies and toxic chemical reactions to the cornea or conjunctiva. Since adhesives and solutions are not subject to FDA approval, counsel patients to first test the adhesives on their wrists before applying it to their eyelashes. This low-risk approach may identify a potential allergic or hypersensitivity reaction. Additionally, warn patients about potential damage to their natural lashes with improper false lash removal.
Advise patients about the heightened risk of infection with the use of false lashes. This is, perhaps, most important because false lashes are not normal anatomical structures and may cause poorer periocular hygiene. In fact, it has been proposed that the lengthened lashes create a "funneling effect" of foreign particles toward the eye. This prevents the lashes from performing their protective function and increases risk of irritation, infection and ocular surface disease.2 Thus the importance of routine cleansing regimen should be emphasized in order to mitigate this increased risk. Traditional methods for eyelid hygiene and prevention of meibomian gland dysfunction are appropriate: mild tear-free soap and water, OCuSOFT wipes and/or cleansing foam. Regardless of the cleansing technique, the goal is to prevent buildup of debris and bacteria, which now have a larger surface area on which to accumulate.
My Experience
Even though I love the look of more prominent and feminine lashes, I don't wear eye makeup on a regular basis. As I considered my options, I admit that I was a little apprehensive after having treated some of the complications associated with lash extensions—such as chronic blepharoconjuntivitis and even one corneal abrasion. My instinct was to go with a lash-enhancing serum, so I tried Latisse. Unfortunately, within two weeks, I developed a chronic low-grade hyperemia and decided to discontinue treatment before I could see any of the beneficial effects.
I was nervous about having a lash lift, but after some research it seemed to be a safe option that offered a more natural-looking enhancement than extensions (for me the extensions were a bit too dramatic). I found a licensed esthetician in my area and made an appointment. When I scheduled, I was told to wear neither makeup nor contact lenses. During my appointment, the technician made me feel very comfortable. I relaxed with closed eyes as she applied the solution to my lashes. The process was painless and took about 60 minutes. Occasionally I felt a slight tingling sensation at my lash line, but that was the worst of it. After the treatment, I was instructed not to get my lashes wet or near hot steam for the next 48 hours. My results were significant and lasted for about six weeks. The best parts? No itching, redness, burning or tearing or adverse effects whatsoever. And, after the initial 48-hour period, no upkeep was needed!
I was very excited to find a safe, easy option to improve the appearance of my lashes and now make the recommendation to my inquisitive patients, specifically those patients who had complications from extensions or from Latisse or Zoria.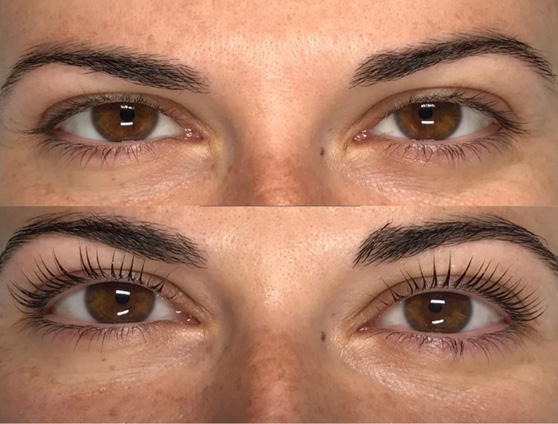 To Consider
You may consider reaching out to respected salons in your area. Speaking to esthetic professionals regarding their treatments and protocols will give you valuable information with which to guide your patients through the process. It also allows you to emphasize the ocular health risks and decrease potential complications for their clients. Working together as a team, we can guide our patients to achieve the beautiful eyelashes they desire safely and successfully.
References
1. "From Lashes to Brows: Eye-Opening Trends in Cosmetics." Nielsen, 28 Sept. 2018.
2. Koffuor, GA, et al. "Ocular Discomforts Following Eyelash Extension." Journal of Medical and Biomedical Sciences, vol. 1, no. 3, 2012.
3. Matossian, Cynthia, et al. "OSD: Beauty Has a Price." Ophthalmology Management, 1 Apr. 2016.