With her educational background as a research engineer in optics and materials, Xiaohong "Serena" Zhang, MS, PhD, chose to work at Essilor because of the opportunity to help people see better and the company's culture. She sat with Women In Optometry recently to talk about Essilor's culture of innovation and the developments that result from that.
WO: What made you choose the vision industry and Essilor specifically?
Dr. Zhang: I have always been fascinated by light and imaging. It's why I chose to study optoelectronic devices during my PhD study. It was a natural transition to apply that background to the vision industry. It's quite fulfilling to know the work that I do can improve the quality of life for people. I chose Essilor because it's one of the most innovative companies with a culture that allows employees to maintain a work/life balance. It's important to me because I want to spend time with my husband, our 4-year-old son, Issac, and our 5-month-old daughter, Megan.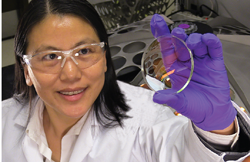 WO: How is that culture of innovation fostered?
Dr. Zhang: My work is all about innovation and invention. Those of us who work in R&D don't have a routine like other jobs where you already know what your short-term and long-term plans are. We need to work on new ideas and anticipate new challenges all the time. We need to adapt and make changes every day to tackle new problems so we can improve product quality.
Essilor R&D has different technology roadmaps that guide product development in various areas such as myopia or the aging
population. Specifically, I work on optical filter designs and evaluate new technologies. We spend about half of our time focused on our
specific research projects, but we also spend a lot of time exploring new ideas. We examine what's going on in other countries, with other manufacturers and with other technologies. We also interact with other engineers inside Essilor. Our prospective work can come from looking at alternative solutions to existing issues as well as trends we see.
WO: What are some of the projects you've worked on?
Dr. Zhang: I've provided support to global engineering and R&D for the design of traditional products, such as antireflective coatings. But the majority of my research work is focused on developing new technology that lays the groundwork for future products. One example is our work on developing filters and mirrors that can enhance eyewear.
WO: You have also filed three patents?
Dr. Zhang: During my three years at Essilor, I have filed three patents related to optical filtering and the development of multilayer filters. I filed my first patent within my first six months at Essilor on the design of blue light filters, which block certain rays of hazardous blue-violet light, specifically for advanced eyewear. My second and third patents are based on designs of multilayer optical filters used for color balancing or health filters to block hazardous UV and infrared light to the eye.
WO: What drives continued R&D?
Dr. Zhang: It's important to keep looking at alternatives, even when there are already good products on the market. For example, most blue light-blocking lenses today use tinting to block or screen a specific band of blue light. But what are the alternatives? We are looking at ways to reflect harmful blue light with high selectivity of specific wave lengths. How would that impact lens transparency? How can multilayer optical filters help with color balancing or potentially reduce the risk of developing age-related macular degeneration? These ophthalmic filters could be groundbreaking discoveries that help improve the performance of optical
lenses.
Essilor R&D's goal is to develop high-value products, services and technologies to best meet our customers' expectations. R&D achieves this goal by utilizing the best global experts via its international network of partnerships, which includes universities, industrial groups and innovative startups.