Courtney Dryer, OD, had a vision for her independent practice in Charlotte, North Carolina: a boutique-style, higher-end optical offering patients a high level of personal attention. This desire only grew stronger after her graduation when she was working for another OD. "I saw that the only way I could practice the way I really wanted to would be by opening my own practice," she says.
She had clinical knowledge and practice management experience, as she had worked for an optometrist for a year prior to starting
optometry school as a tech and in the optical and insurance billing areas. But one skill was missing. "My product knowledge was weak. I knew I had to learn more, so I went on the internet, reading message boards and seeing what people were saying on sites like ODs on Facebook." A few months after her practice opened in February 2013, she joined Vision Source®.
Dr. Dryer knew she wanted her patients to have access to the most advanced vision care solutions available. By including Essilor lenses in her product lineup, she is partnering with the world leader in ophthalmic lenses. The company allocates approximately $200 million to research and innovation every year. She also has the support of company representatives, who quickly became one of her main sources of information. "I had to learn how one lens is distinct from another. I wanted to know about the manufacturing process for digital lenses so I could explain that the antireflective treatment in an Essilor lens isn't just a coating. I needed to be able to explain to patients how the higher-end products create value."
That's important because, as Dr. Dryer explains, "I have a lot of patients who are in the 25- to 35-year-old range, and that's a demographic where digital eye strain is becoming more apparent. So I spend a lot of time talking about the prescription in the exam room and the health and vision benefits of certain kinds of lenses, such as Eyezen™ lenses," which selectively filter up to 20 percent of harmful blue light (blue-violet wavelengths between 415nm and 455nm on the light spectrum) while offering accommodative relief.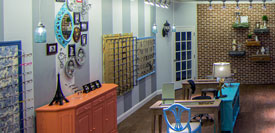 Then, whether she escorts the patient to the optical for a handoff or begins the frame selection process herself, she reinforces the recommendations she made in the exam room and spends more time talking about the visual benefits of Transitions lenses or other lens treatments, as well as the importance of sunwear. That way, the prescription itself is the focus in the exam room, and those product recommendations are reiterated and explained in more detail in the optical area.