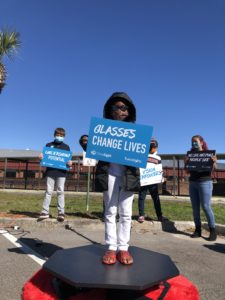 In honor of Dr. Martin Luther King Jr. and committing to the importance of EssilorLuxottica's foundational values under diversity, Transitions Optical's Diversity Advisory Board proudly partnered with OneSight to host a one-day vision clinic. OneSight is an independent non-profit committed to eliminating the global vision care crises. The organization's primary sponsor, EssilorLuxottica, is equally dedicated to this commitment. The clinic provided free eye exams and dispensing services for students on Friday, January 14, 2022, at Deerwood Elementary in Kissimmee, Florida.
Occurring three days before Dr. Martin Luther King Jr. Day, 15 licensed eye doctors, opticians, Transitions Optical Diversity Advisory Board members and OneSight staff members came together to provide their services to over 60 students during the school day.
Deerwood Elementary, a part of the Osceola County School District, is composed of approximately 62 percent Hispanic/Latino and 19 percent African American students.
According to the Centers for Disease Control and Prevention, the Hispanic/Latino population are less likely to be able to access eyecare services because of language barriers and/or health insurance coverage[1]. From 2016 to 2017, only 58.6 percent of Hispanic/Latino children ages three to five had taken a vision test from a health professional[2]. The Hispanic/Latino population in the United States also has some of the highest rates of vision loss and blindness caused by eye disease—particularly diabetic retinopathy and glaucomai. African Americans also share a higher risk of having the aforementioned eye diseases. Moreover, African Americans are at a higher risk for glaucoma at a much younger age than other populations[3].
Additionally, a lack of representation of African American or Black students in optometry schools and in the profession of optometry exists. In fact, out of the 13% of Americans who identify as Black or African American[4], only a little more than 3% of the community is represented in optometry school including just 3.8% of faculty[5]. Outside of academia, Black and African Americans account for just below 2% of practicing optometrists[6].
"In alignment with Dr. Martin Luther King Jr.'s value of equality, it was the goal of all involved in the clinic to help provide access to high-quality vision care services to those students who may not have the transportation or resources available to receive a comprehensive eye exam or learn about the importance of eye health," said Patience Cook, director North America marketing, Transitions Optical. "We aspired to educate and enable all students, especially those within the multicultural community, of which research shows are more often disproportionately affected by eye diseases and vision loss, to learn the importance of healthy sight and help improve their vision so that they may see life through a clear lens. With the help of our Diversity Advisory Board members, who represent expertise in the largest and fastest-growing minority demographic groups in the United States, we also hoped to spark student interest in optometry, ophthalmology and opticianry so that they may help to advance equity and increase representation in the eyecare industry when they get older."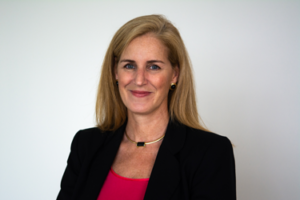 "At OneSight, we know that eye exams and glasses provide so much more than clear sight alone. Access to vision care brings about equitable opportunities in education, employment and earning potential," said K-T Overbey, president & executive director, OneSight. "It was a privilege to come alongside Transitions Optical to provide care to populations who are disproportionately impacted by vision loss and lack access to solutions."
The one-day vision clinic was a private school event and participants were pre-selected through the school administration. Due to COVID-19 restrictions and strict safety protocols, COVID-19 triage, masks and social distancing were required for everyone attending.
In addition to the vision clinic, members of the Transitions Diversity Advisory Board honored Dr. Martin Luther King Jr. Day by sharing actionable ways eye care professionals can foster diversity, equity and inclusion in their lives and careers by sharing insights on the importance of the day and their dreams for the optical industry and world in a new video that was released on Transitions Optical's PRO Facebook, Instagram and LinkedIn account pages.
es its industry partners with the tools and education they need to better serve and improve communication with their culturally diverse patients. Resources are available free-of-charge to eye care professionals at TransitionsPRO.com/Multicultural. Those interested in being involved with the Transitions Diversity Advisory Board can contact cservice@transitions.com for more information.
References
[1] "Hispanics and Latinos Have Higher Risk for Vision Loss," Centers for Disease Control and Prevention, April 27, 2020, https://www.cdc.gov/visionhealth/resources/features/hispanic-latino-vision-health.html.
[2] "Vision Testing Among Children Ages 3-5 Years in the United States, 2016-2017," National Center for Health Statistics, November 2019, https://www.cdc.gov/nchs/data/databriefs/db353-h.pdf.
[3] "Eye Health Among African Americans," National Eye Institute, July 22, 2021, https://www.nei.nih.gov/learn-about-eye-health/outreach-campaigns-and-resources/eye-health-among-african-americans.
[4] "The Black Population: 2010," 2010 U.S. Census Briefs, September 2011, https://www.census.gov/prod/cen2010/briefs/c2010br-06.pdf.
[5] "Annual Student Data Report," Association of Schools and Colleges of Optometry, May 2020, https://optometriceducation.org/wp-content/uploads/2020/10/ASCO-Student-Data-Report-2019-2020.pdf.
[6] Chu GY, Kalaczinski L, Russo D, Leasher J, Elder K, Fink B. Diversity in our Colleges and Schools of Optometry, "Optometric Education," Fall 2017, https://journal.opted.org/article/diversity-in-our-colleges-and-schools-of-optometry/.