Do you want to build a strong personal brand, become a recognized expert or even become a thought leader? Thought leaders become recognized not just for what they know, but for their ideas and their contributions to the world. They share their expertise and engage a community of followers—while enhancing their own reputation in their fields.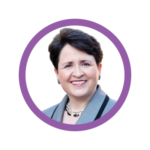 Denise Brosseau, CEO of the Thought Leadership Lab and author of the best-seller Ready to Be a Thought Leader?, will deliver a dynamic keynote with workshop sessions to help attendees explore their spheres of influence, whether that sphere is at work, in the community or in advocacy for the profession. ​In this session based on her popular courses at Stanford Business School and on LinkedIn Learning, she will share the mindset and skill set that makes a thought leader, including
The typical journey from leader to thought leader;
Tools, actions and strategies to position yourself as a thought leader and scale your ideas to reach the widest possible audience—online and off;
How thought leadership can be deployed as a tool for your own career advancement;
Next steps to increase your influence and impact this year; and finally…
How to avoid pitfalls along the way.
Hear from our keynote speaker:
The WOLC keynote speaker is made possible by EssilorLuxottica.
THANK YOU TO OUR 2021 SPONSORS