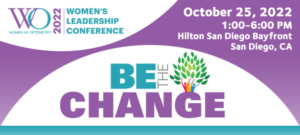 The fourth annual Women In Optometry Women's Leadership Conference will feature lively discussions and presentations from optometric leaders on how and why change is transformative and not simply disruptive. The conference, titled "Be the Change," will be held in conjunction with the American Academy of Optometry meeting, Tuesday, Oct. 25, 2022, from 1 p.m. – 6 p.m.
Keynote speaker, Lisa Sun, Founder and CEO of GRAVITAS and a former associate principal at McKinsey & Company, is a dynamic speaker who asks audiences what would happen if they let go of fear, got off the sidelines and jumped boldly into the game of life? Sun electrifies audiences as she unpacks this vital question in her moving, motivating, and empowering talks. Catalyzing confidence and inspiring innovation, Sun seamlessly blends stories from her personal journey with data and experience-driven insights from her 11 years at McKinsey & Company to offer talks that encourage audiences to choose self-confidence, work to harness their "superpower" and use gravitas to advance personally and professionally. The keynote is made possible by EssilorLuxottica.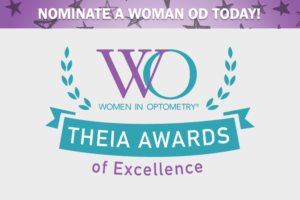 Several current and upcoming leaders in optometry will share how they have become changemakers, and a session will look at ways to plan for change. The conference ends with the presentation of the 2022 Theia Awards of Excellence and a cocktail reception. WO editor Marjolijn Bijlefeld says, "One element of every WO meeting is to foster the time and opportunity for colleagues to connect, support and inspire each other. Every time we get groups together, it's exciting to see the breadth and depth of influence that women have in this profession." The meeting is ideal for optometrists in every career setting, students and those supporting ODs in their roles as well as industry representatives.
The meeting will be held at the OMNI Hotel San Diego. Platinum sponsors of the event are Alcon, Allergan, CooperVision, EssilorLuxottica Eye Care and Johnson & Johnson Vision.
TWO WAYS TO REGISTER FOR THIS LIVE EVENT