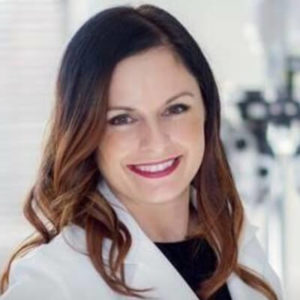 What sets Precision Eye Care of New Jersey and Livia Derdova, OD, MPH, apart? For starters, it's the all-female staff that she says provides an "especially nurturing vibe," as well as the "European model" of eye care. Dr. Derdova purchased the existing and thriving practice on July 6, 2020 and has since "poured myself into overhauling the practice and bringing the European model of eye care to the community."
THE EUROPEAN MODEL
Dr. Derdova says the European model is based on three tenets.
You treat everyone the right way.
You treat patients like family.
You treat others the way you want to be treated.
"Being there for patients is a big deal. Anytime a patient leaves our office I end with one sentence, and it's always the same: 'Anything you ever need, we are always here for you.' That's the philosophy of our eye care practice as a whole," she says.
She tells her patients to call her if there is ever an emergency. She promises to fit them in and assures them that any patient who calls the emergency line can expect her to return the call within five minutes. "Truly caring for our patients like family (and showing it!) inspires loyalty to our practice, which really helps us with retention and we're able to bring patients back for return visits year after year."
ALL-FEMALE STAFF
Dr. Derdova says that having an all-female staff may be a factor in attending to the details. "Women pay a lot of attention to detail, and I think patients see it, too. We keep the office clean. We are always compassionate to all of our patients on the phone. We always answer the phone with a smile, and we are always ready to help. Most patients feel very welcomed by the staff, and that means the world to me."
In addition, an amazing staff can help build the business. They are essentially ambassadors of the practice and also fans. "My staff goes above and beyond to treat all patients respectfully and like a member of our family. They remember returning patients by their faces, names and stories. They get right into their conversations from last time, as though they spoke just yesterday," she says. Even small points of connection are meaningful. "Sometimes it's about the little things — complimenting the patient on their outfit, a pretty nail color or a nice haircut. My staff really goes above and beyond to make my patients feel welcomed."
CELEBRATE ACCOMPLISHMENTS
Dr. Derdova says that gratitude for work done well is important. She treats her staff to lunch once a week, "where we have a little fun catching up and laughing together. I also offer bonuses to staff for all their hard work and making my job easier. Each quarter, I invite my staff out for a delicious lunch in a classy restaurant or we go exploring in the town for some delicious cuisine. They appreciate it a lot and it brings all of us together."
Not surprisingly, that happy staff means she has less turnover and better teamwork. "I get constant reminders of how happy my staff is, and it shows in the way they treat our patients. From the moment a staff member answers a patient phone call and I hear the smile in their voice, it makes me realize how much they love working for my office and how much they respect me. It shows patients their commitment to the practice and to me, too."
It's one of her most powerful resources. "My advice to all practices is never discount the power of treating your staff and patients right. Happy staff and happy patients are what make you as a business owner successful."
SPREAD THE GOOD NEWS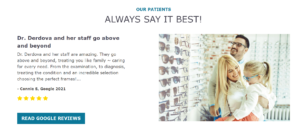 Let the community know about the practice successes as well, she advises. "Never underestimate how much reviews and referrals can do for your practice. EyeCarePro has helped us really step up our game in this area. Each review on Google and each referral by staff or patients speaks volumes about us to our patients and reflects back positively on our practice. We ask patients to give us reviews to let others know how we operate our amazing office, and we've been able to create a brand image that showcases how much we care!"
Simply being there for patients – even if they don't have an immediate need for the service – is important and meaningful. "I know sometimes we get discouraged because we do a lot for a patient and they might not buy contact lenses from you or they will go online for their eyeglass orders. Build trust, be kind to them and one day when others fail, they will return to you! They will remember that you did that extra step for them. The point is to stand out, to be different. I believe when you do something nice for someone, it will return to you threefold!"
Dr. Derdova and the practice were featured in EyeCarePro's Practice of the Month feature.