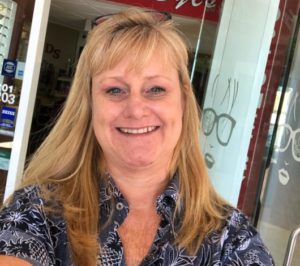 For nearly 43 years, family-run Laguna Eyes Optometry has provided exceptional eye care to Laguna Beach, California. It has existed long before digital marketing was a thing and has adapted many times over the years to stay on top as technology has continued to advance at a rapid pace. In fact, Laguna Eyes is no stranger to embracing change.
The practice was founded by Bill Harrison, OD, a pioneer in sports vision therapy. Alicia Harrison, OD, his daughter, has taken over the practice. With a storied history like that, it's no wonder she dove right into creating the perfect plan to get the most from her patients in the ever-changing world of social media.
JACK OF SOCIAL MEDIA, MASTER OF NONE
Many practice owners or whomever is responsible for social media are challenged by crafting an effective social media strategy is to choose your platform: TikTok? SnapChat? Facebook? Twitter? Pinterest?
Trying to be everywhere or chasing the latest social media meta is rarely worthwhile. Social media platforms cater to different audiences. LinkedIn viewers are not necessarily on Facebook, so it isn't effective to simply copy and paste one post across all the channels.
IT'S OK TO BE REALLY GOOD AT ONE THING 
That's the first lesson to be learned from Laguna Eyes. On the practice websites, there are links to three social media pages. Over the years, the doctors have identified where their audience is and focused their social media strategies to maximize impressions. Also, the strategies for each platform are different.
The Facebook page, for example, focuses on more general content and isn't updated as frequently, while Twitter sees almost daily uploads. But where things get really interesting is Instagram. While the practice uploads content only once a month, there's noticeable effort put into crafting unique content that takes full advantage of the platform's capabilities. Dr. Harrison worked with EyeCarePro to make Instagram her main focus, and it paid off. Of all the social media channels, Laguna Eyes Optometry gets the most interactions on its Instagram account.
EyeCarePro recommends that every practice start with Facebook. It's still the biggest social media platform in the world, and it's great for honing your posting skills until you choose a more targeted channel. You want depth in your social media efforts, not breadth.
PLANNING THE CONTENT
Different platforms have different strengths. Successful Facebook posts want to mix text, images and videos. Twitter limits a post's length, so linking is key. Instagram relies almost entirely on images and videos.
Regardless of which platform a practice chooses, the content calendar should be about 80 percent education, 20 percent promotion. People on social media don't like to be sold to, that's what Facebook Ads are for. Aim for organic engagement, which comes from piquing the audience's interest.
THIS IS WHAT GOOD CONTENT LOOKS LIKE
Laguna Eyes has its content strategy down to a science. On Twitter and Facebook, almost all of its content is information relating to common eye health problems, with some fun posts that show the doctors' and employees' human side. On Instagram, Laguna Eyes showcases a lot of its designer frames and sunglasses but includes some goofy behind-the-scenes stuff that makes the practice stand out.
Getting more involved in your local community is crucial to growing your audience. So it's no surprise that part of Dr. Harrison's social media strategy involves showing everyone the best Laguna Beach has to offer. Every once in a while, she'll promote a local business. Not only does this gain her some serious digital brownie points from entrepreneurs in her area, it shows her patients Laguna Eyes has a lot in common with them. "Wow, Dr. Harrison likes Succulent Coffee Roasters too?"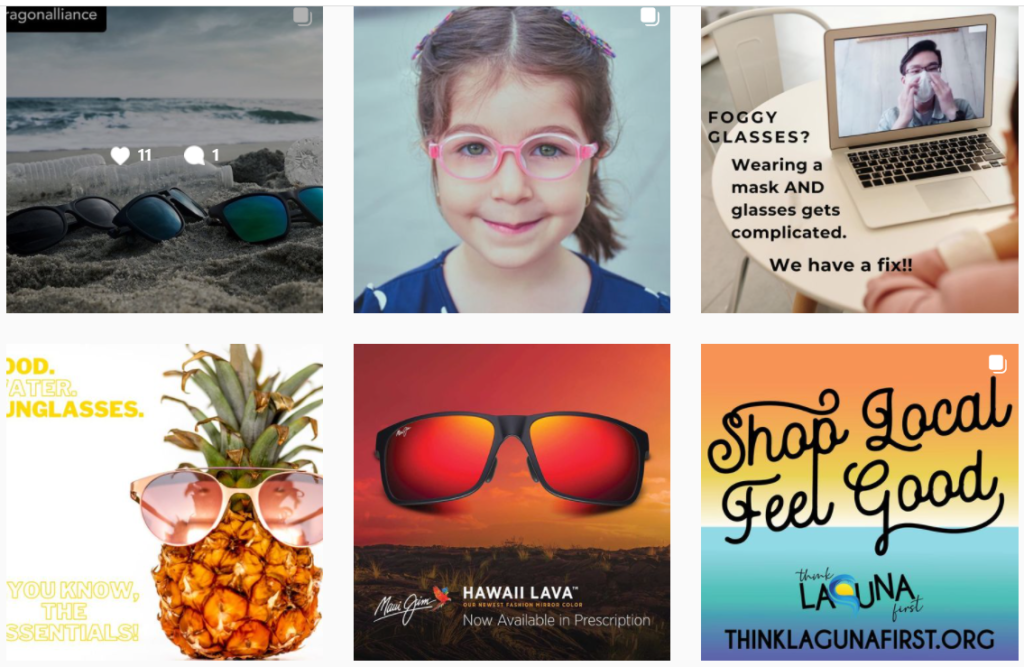 THE RESULTS
In a world where top-of-mind awareness is everything, Laguna Eyes Optometry continues to excel. Through a carefully managed social media strategy, its engagement and reach continues to grow month after month. A quick glance at it Instagram profile alone shows a decent number of likes, comments and views on all posts . But that's not all. The practice gets a steady stream of new followers, too. It just proves that a smart social strategy is still a very necessary component of successful digital marketing.
Need Help Going Viral?
EyeCarePro knows just what it takes to be a social sensation. It has years of experience planning and executing content strategies across multiple social media platforms and a knowledge of the optometry industry inside and out, especially the sorts of things patients like to see. Whether you're looking for a little help getting things set up, you need customized, eye-catching content or you want someone to manage your accounts, we've got what you need. Call 201.591.4350.