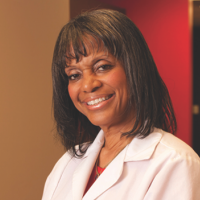 Connecting with patients begins before they ever enter the practice. A robust website and social media outreach are key to letting patients know who you are and what to expect, says Paula Newsome, OD, MS, FAAO, FAARM, CHC, of Advantage Eye Center of Charlotte, North Carolina. Dr. Newsome has been using EyeCarePro to manage her online presence for years, and for Dr. Newsome, there is no going back. "What I really enjoy is that they're very responsive," she says. "As times change, technology changes, and things in the office change, we can let patients know."
EyeCarePro provides her with accountability and reporting that have served Dr. Newsome and her staff well over the years. "They make sure we have a report of how many people are looking at our site. There's a lot of information that they track for us," she says. Updating and tracking these details can be a full-timel job on its own. "We are very busy; we are blessed in that regard. I don't have anyone in the office who is dedicated [to social media] and can be effective." EyeCarePro found its way into Dr. Newsome's world when she saw other well-run websites that the company managed; "it's the copycat-flattery," she laughs.
LEAVE IT TO THE PROS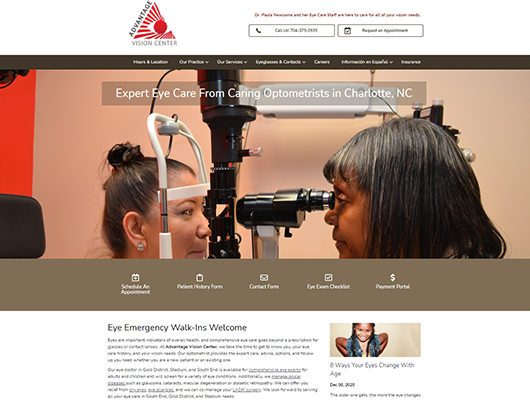 While some ODs keep their web-based outreach in-house, that takes up too much of Dr. Newsome's valuable time. "To me, it's kind of like the stock market," she says, explaining that EyeCarePro allows professionals like her to sit back and work on their true passions rather than spending their precious time watching and waiting on administrative tasks. "I'm a good provider. I'm passionate about what I do. But I'm not a web designer. I'm not a social media manager. That adds up over time. I don't have time for that."
With EyeCarePro handy, Dr. Newsome can spend her time working towards her other goals. "I can focus on my professional influence—I'm an influencer through Facebook and LinkedIn personally, but I can manage that while EyeCarePro manages the practice's outreach," she explains.
Even though EyeCarePro manages the effort, Dr. Newsome is very much in touch with the professional team at EyeCarePro. "We review information with them on a regular basis—at least once a month. If we don't come to them with ideas, they will send us suggestions. November was national diabetes awareness month, so we had the messages out there," she says. "They are up to date on eye care promotions and what's coming."
YES, WE ARE OPEN 
Another perk of EyeCarePro's positive presence in the practice cycle is the connection formed between practice and patient. "Our website and social media helped us so much during COVID-19. We were able to keep people updated with what was going on," she says. "That was our way to communicate with patients. "The practice even included COVID-19 testing sites listed on the website to best serve their community. "It was a chance to show that we are taking it seriously."
Patients want to know what safety protocols a practice has implemented, for example. It makes them more confident to come in if they understand that there are fewer patients inside the building and that safety processes are in place in the clinical areas and optical dispensary. The way they learn is by visiting the website. Dr. Newsome's website includes on-line appointment requests, patient history forms, a COVID-19 FAQs section and a tab for the same information in Spanish.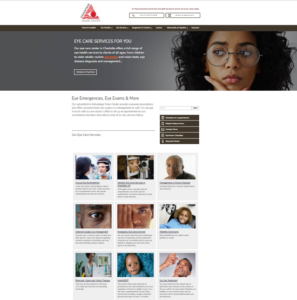 NO GOING BACK
In all the years Dr. Newsome has been using EyeCarePro services, she has never had second thoughts about bringing her marketing and website back in-house. "The team is too responsive to even consider doing it ourselves," she admits. She gives an analogy of a patient who has the option of buying their eyeglasses online, but chooses to buy them from her practice, knowing that if something goes wrong, it will be taken care of.
"It's the same with EyeCarePro. Right now, I know I want to add a few more tabs and information about our optical area. When I send them an email that explains what I need, they're going to do it…You think I want that headache?" she laughs.
Offload Your Website or Marketing Strategy
If you're like Dr. Newsome, you have enough on your plate managing your practice without the headache of worrying about your website and marketing strategy to bring in new patients. Free up your time and leave the marketing "headache" to us. Click here to learn more.