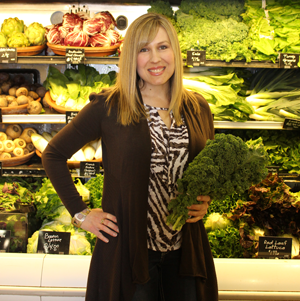 Laura Chonko, OD, HHC, FONS, often talks with her patients about nutrition during the slit lamp examination. She makes the connection between how eating foods that are beneficial to the eyes are also a healthy choice for the rest of the body. "I always emphasize eating more dark green leafy veggies, dark purple berries and grapes," Dr. Chonko says. She also discusses the benefits of cutting back on processed foods and white, refined foods such as sugar and flour.
As an optometrist and a holistic health coach, Dr. Chonko's business, Eyedeal Wellness, is where her two passions for optometry and nutrition join together. The optometry segment of her business operates out of the Walmart store in Lorain, Ohio, where she started
working in 2004 and took over the lease in 2007. Dr. Chonko takes the coaching component of her work on the road, often to a local supermarket, where she can sit with clients at a coffee table to discuss a strategy and then walk the aisles to point out healthy choices. Dr. Chonko says that she appreciates that her Walmart setting allows her to balance both parts of her business, along with making time for her family.
Last year, Dr. Chonko, who studied at the Institute for Integrative Nutrition, became one of the first optometrists to earn a fellowship in the Ocular Nutrition Society (ONS).
The two businesses are separate, but because of the symbiotic relationship between ocular and overall health, she can make simple
recommendations, such as decreasing caffeine and alcohol intake, during the exam. "A lot of people want to make changes, but they have difficulty with the implementation of those changes," Dr. Chonko says. "With the consulting business, I can help a lot of people who may not have other access to the information."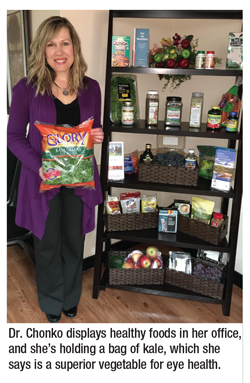 Dr. Chonko says that many of her patients don't make the time for or have access to a physical exam, and she is often the only doctor they see. "Most systemic diseases have an ocular manifestation, so I can look at someone's eye and recommend that they get their cholesterol checked," Dr. Chonko explains. "I don't necessarily think this means that they need to take a statin medication, but this opens up a conversation about their diet and exercise habits."
Adding a quick conversation on nutrition in the exam room can be educational and beneficial to patients. She suggests that a simple way to start is utilizing brochures available from the ONS to educate patients on eye health and nutrition. She also uses health documentaries that she plays in the reception area, which generate conversations. Some of the transformations shown from trying a variety of diets and health plans may inspire others to make healthier eating choices.