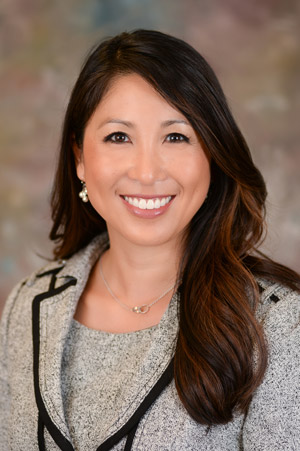 Charissa Lee, OD, FAAO, didn't see herself taking on a role in education, despite an early childhood plan of becoming a teacher. Since her 2002 graduation from State University of New York College of Optometry, she's worked in hospital, retail and private practice settings. However, her time as a professional affairs consultant with Johnson & Johnson Vision (JJV) revealed new opportunities to her for interacting with established and new practitioners. So when she was offered a role as director of education with JJV three years ago, she took it.
That meant moving her husband, Long D. Tran, OD, FAAO, a former professor at Southern California College of Optometry at Marshall B. Ketchum University, and children across the country to resettle in Jacksonville, Florida.
She was drawn by the opportunity to coach optometrists beyond a traditional classroom setting focused on didactic training. "Teaching institutions are set up to train these students to be doctors, as it should be. The curriculum allows them to diagnose, treat and care for their patients when they graduate," she says.
But there's more to patient education than discussions on ocular health and disease state management. "Being able to communicate
why you're prescribing a certain brand of contact lenses is not typically covered in a didactic course, but it's important in patient
care and compliance. For example, at The Vision Care Institute®, students participate in a full-day, hands-on training program to
gain an in-depth learning of the research and EYE-INSPIRED™ Design behind our contact lenses," she says. "They'll understand the difference in design between our different brands so that they can provide patients with a better experience in the office and with
their contact lens wear overall."
The opportunity to practice their communication skills outside of the school's clinic setting is also important. "We focus on the communication aspects—the why—and they get to hear feedback in a safe environment. It's a different perspective," Dr. Lee says. In
addition, students have access to the research and development scientists and optometrists who work at JJV. "They come to understand the rigorous science, research and development that goes into creating our contact lens brands. Then they can speak about that more confidently."
The experience serves to open students' eyes to opportunities in the profession. The ODs in JJV leadership come from a variety
of backgrounds and arrived at their roles by varied pathways. "I never thought I'd get out of clinical practice. Seeing patients was my
passion, but the opportunity here was to help patients on a larger scale," she says.
A voice in the company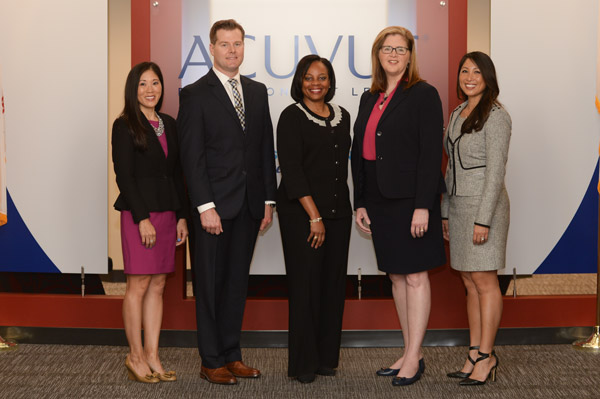 Under the guidance of Millicent Knight, OD, FAAO, FAARM, who sits on the North American Leadership Team, the professional affairs team at JJV encourages the OD perspective in the company's direction. "We have a voice in the company. We can talk about how patients experience our products and how we can make that better," Dr. Lee says. "We can see the innovations in the pipeline, and we can provide input on how the company can augment the experience for patients. The OD voice helps broaden the experience here and helps the company create the reinforcement, such as digital tools, to help practitioners better care for their patients."
Living the credo
Dr. Lee says that the first line of the JJV credo speaks to her. We believe our first responsibility is to the doctors, nurses and patients, to mothers and fathers and all others who use our products and services. "That's what we do every day. That credo is woven
through everything we do. It's why I'm here; it's why I sold my practice and moved across the country to work with a company where the goals and values are in alignment with my own."
Learn more
Learn more about The Vision Care Institute at acuvueprofessional.com/tvci.