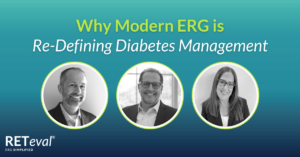 In the May issue of Review of Optometry, Timothy Earley, OD; Steve Ferucci, OD, FAAO; and Julie Rodman, OD, MSc, FAAO, talk about how ERG enhances clinical decision-making in diabetes management over traditional testing and exams.
Dr. Rodman writes, "Early detection of retinal abnormalities is a critical step in preventing vision loss. Importantly, functional loss may precede identifiable structural damage when using an objective test like ERG. Also, it's important to recognize that, because diabetic retinopathy is a neurovascular disease, retinal function doesn't always align with structure, which is why functional and structural tests should be used in tandem."
ERG stands out as an option because "having an awareness of the functional health of a diabetes patient is so helpful. ERG measures both retina cell stress and, in some units, pupil light response as well. This powerful combination provides a superior progression risk assessment," she says.
Read more about how she and the other optometrists use the RETeval device by LKC Technologies, an FDA-cleared, portable, battery-operated, non-mydriatic ERG testing
instrument. They discuss its value in terms of data collection and the practice efficiencies that it brings.
Read more stories on WO about LKC Technologies.