A Targeted Vision
Kate Hamm, at the University of Missouri-St. Louis College of Optometry, has gone from thinking about being an optometrist to visualizing herself as a leader in the optometry field.
"I feel really empowered now, like I have people who are backing me," she says. "I never realized I could run my own practice or that a chain of stores could be mine. I'm no longer closing a door on what my future can look like."
The new skills she can bring to that future include filling out a pro forma, planning inventory, knowing how to hire employees
who will honor her vision and learning not to spread herself too thin when using multiple social media accounts.
She appreciated that mentors from the optometry, banking, marketing and human resources worlds shared honest perspectives
about what goes into launching a new venture. That's why Hamm is hopeful that the relationship she is cultivating with one mentor, a
woman OD with two Target Optical-affiliated practices in New Jersey, will give her an edge someday. "She's going to be someone who can put me in successful situations as I get closer to graduation."
Hamm now thinks she'll likely start her career at a Target Optical before opening a private practice in a rural community.
In the meantime, she is studying vision therapy and researching dyslexia to carve out a niche—another tip the program stressed—in pediatric optometry.
Although she'll graduate with a lot of debt, she learned that banks are likely to approve loans for an OD because optometry is a profitable field. As a result, when a guest speaker during a recent practice management course said he had to borrow money from his parents because it was hard to open an optometry practice, she spoke up. "I was able to turn to my classmates and say, 'That's not true.'"
Expanded Options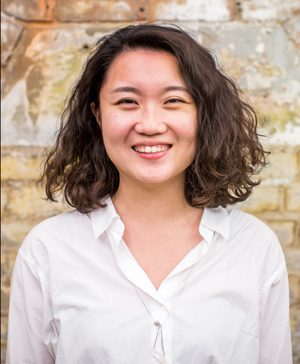 Elkie Fung, at the State University of New York College of Optometry, uses a string of adjectives to describe her experience: Immersive. Intensive. Educational. Enlightening. "Just look at the name: eyeFWD. It literally had us thinking of things that are ahead," she says. "But it wasn't about being a step ahead of where the trends are. It was about us being the trend."
That trend includes an increasing number of women like Fung, who can, according to the female OD mentors in the program, successfully balance careers, relationships and well-deserved vacations.
Despite being an introvert, Fung felt comfortable with the heavy focus on collaboration in nearly every session, "even when you had to think about your deepest values and then share how they would help form your practice." She was impressed that, from general concepts to the smallest details, the program's emphasis was on providing the best patient care over making a profit.
Hoping to open an independent practice "smack in the middle of a big city," Fung enjoyed opportunities schools can't always offer. For example, students visited a LensCrafters, where an affiliated OD shared how new refracting and imaging technology had resulted in smoother, more integrative exams. "We got to see real-life doctors doing real-life things with new technology," she says. "It wasn't just, 'Here's a video about it.'"
Since the program, she has noticed that the questions she asks guest speakers in her classes have shifted. "My friends are like, 'What the heck? Where did you come up with those business terms?'"
Aside from academia, Fung previously thought private practice was her only option. "This opened my mind. There's more than one way to be successful."