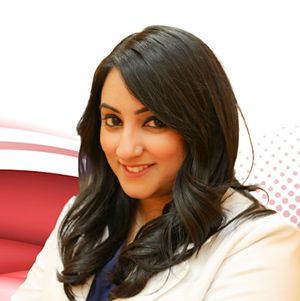 Anisha Haji, OD, sees an opportunity to practice full-scope optometry, providing patients with a full range of professional services, by carefully utilizing the space that is available to her in five LensCrafters-affiliated locations in the Atlanta area. Between these five locations, patients can get nearly every service, from LipiFlow for dry eyes to amniotic membrane contact lenses to a suite of specialty contact lenses and myopia management.
To Dr. Haji, it makes sense to provide as many services internally as possible. "It is harder to attract new patients than to keep a current patient happy. People already know that they can get their comprehensive exam here and their eyewear from LensCrafters, but the more that we can do for patients means the fewer need to be referred elsewhere, where we might risk losing them.  So if someone needs a scleral lens, I want to be able to accommodate that for them here," she says.
It's a win-win for both the professional side of Atlanta Eye Group and the eyewear teams at LensCrafters. LensCrafters locations draw the volume – and once those patients arrive in her office, generally one of two things happens. They either need an eyewear solution that they can get next door – or they need additional professional services, many of which she or one of her associate doctors can provide.
She says that she is fortunate that the LensCrafters leases that she has acquired over the years were held by progressive ODs, many of whom have become her mentors. "The practice that we purchased in 2020, a few days before the COVID-19 shutdown, was already doing specialty contact lenses and myopia management and had a Lipiflow. We just took it up a notch in letting patient know we offer management of these conditions."
Since not every location is large enough physically to provide every service, the locations have an inter-office referral source going. From end to end, the longest distance between locations is about a 40-minute drive, but most are within 15 or 20 minutes of each other. "We refer to where our strengths of our 12 ODs are or where the equipment is," she says. "We have one practitioner who loves seeing little children. So when we have patients who have young children under 5, we can tell them we have just the right OD for them. We have another who really enjoys glaucoma management, and others who enjoy dry eye management," she says. Most of the doctors on her team work primarily out of two offices, so it's easy for patients to find them.
Dr. Haji says that there is still a perception that optometrists in corporate-affiliated setting refer medical patients out. "We do see a lot of patients for refractive care, but it is in seeing that volume of patients that we can identify those who need medical services. It's not an either/or. The patient who needs dry eye management or glaucoma co-management also needs sunwear and progressive lens eyewear. For us, it's about how much service we can provide to our patients. And the patients who need scleral or specialty contact lenses are also going to need eyewear."
She and her associates also detail the benefits of appropriate eyewear for multiple uses. "I absolutely tell patients that they need sunglasses and that polarized lenses are better. I also tell my patients that the opticians are the real pros at styling, sizing and measuring their eyewear. That's their strength. Mine is making sure that patients understand their medical needs and we can help them locate services."
She encourages optometrists in every setting to practice to the fullest scope they can. If they cannot provide a professional service, consider referring to an optometrist who can. "All of our referrals do not necessarily need to go to an ophthalmologist. We need to be available, affordable and able to help patients, and I think at our practice, we offer all three of those. We're open seven days a week; we provide a great value. And we all have the ability to know when a patient needs a referral – whether that's internally to one of our locations for dry eye or myopia management or something else. It's a great feeling to be able to be the patient's primary eye care doctor."