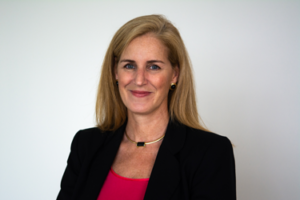 Just like every organization, COVID-19 interfered with the planning for OneSight missions. The Ohio-based organization helps people worldwide receive eye exams and eyeglasses. President and executive director K-T Overbey reflects on the ways the organization had to radically and quickly readjust its practices. "The OneSight team's quick flexibility and innovation has allowed us to continue serving patients while finding new ways to reach people going forward," she says. While the organization had to take a pause in conducting mobile clinics, it was able to keep its permanent vision centers open and continue serving patients. Even so, in 2020, OneSight hosted five international clinics, only one fewer than the previous year despite the pandemic.
WORKING FOR YOU
Jamie Anderson, OD, has been deeply involved in the organization in the past several years, and she has volunteered at more than 20 clinics in her time—both with the charitable short-term efforts and the sustainable vision centers. "The two models are completely different," says Dr. Anderson. "In the charitable setting, a team of 40-50 doctors, opticians and a variety of other volunteers go to a country to provide comprehensive eye exams and free custom-made eyeglasses." The team takes over a site, sets up a full clinic and lab and provides community members corrective vision care at no cost. "It's a temporary footprint, but the impact is long lasting," she says.
With the sustainable clinics, the organization works typically through local hospitals and helps train people in the community who can then provide basic refractive services and eye care on an ongoing basis. OneSight volunteers who come in help to advance the training of those clinic staff. "We come in and stay for two weeks, we provide education, mentoring, camaraderie and cheerleading," says Dr. Anderson. "We can help make the local clinic staff feel like they are supported by the global OneSight team."
While the charitable events require a serious commitment of time and energy, the impact makes it worthwhile, she says. "There are inspiring stories of people walking for days to get to the site," she says. "It's an amazing immediate impact… a beautiful thing." Similarly, helping to establish sustainable clinics is also rewarding. Dr. Anderson points out that these sustainable clinics provide meaningful work for the employees. "This is their community. They're so proud of their careers. They take this very seriously, and it helps sustain their families while also providing much needed service," she says.
A LANGUAGE OF KINDNESS
The future holds great growth potential, says Overbey. "We're continuing to evolve looking at ways we can scale this. We're looking at a pipeline of new countries to expand into." The experience during the pandemic may have escalated the importance of having sustainable, community-level programs in place as the option of bringing large teams in for mass clinics was not possible.
The demand for the services, however, never slowed. Overbey says that OneSight recently hosted a vision clinic in Cincinnati, Ohio, for children and adults and saw a 93 percent need rate. "Ninety-three percent of patients served at the clinic needed glasses, many of whom were receiving glasses for the first time."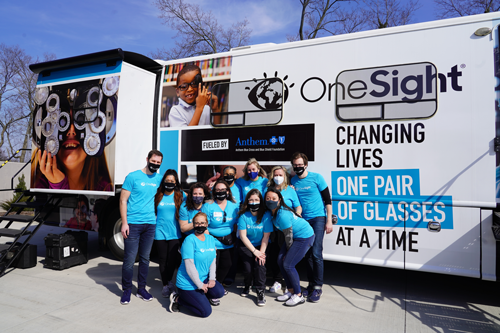 Having served on these trips has "changed my perspective on everything I do in my practice," says Dr. Anderson. "We all know there's a need in the U.S." but people served by the OneSight clinics are often those who don't have access to eye care because of an insurance barrier, physical access or a fear of going to the doctor. "It's a reminder that eye care is not a given whether it's in the U.S. or in other countries around the world. OneSight patients can't hop in the car and go see an eye doctor," the way the vast majority of her daily patients can.
For Dr. Anderson, a personal takeaway has been to foster the humanity of simple interactions. "I gained perspective on kindness," she says. ["People were] so kind to their community members and to us as volunteers. There is a language of kindness. I'm filled with hope and expectations that the world can get back to a kinder, gentler place," she says. That feeling stays with her. "It has made me a better OD; I am more patient, more empathetic and more appreciative of the technicians and the technology we have at our disposal," she says.
For Overbey, the biggest impact comes from watching the metamorphosis of someone gaining sight. "I have had the honor of when you see a person's eyes literally open," she says. "Figuratively, there's a sense of wonder. Entire personalities change. You can see a child blossom." She recalls a 5-year-old patient in Bronx, New York, who wouldn't interact with anyone. Even though the lab couldn't offer his full prescription of +11.00D, the youngster was fit with eyewear that expanded his range of vision while custom eyewear was created for him. After the exam, Overbey witnessed the patient skipping down the sidewalk—a joyful demonstration of his new engagement with the world.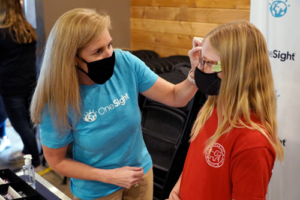 "Moms will fight for their children, and so often we have moms coming in, knowing their child is smarter than he or she appears," says Overbey. She recalls the looks on parent's faces when they are told they can be helped. "There's relief on their faces; suddenly everyone else sees the child this parent knows."
"It's awesome to see, but it's also emotional," says Dr. Anderson. "Watching a mom see her baby's face for the first time or offering eyeglasses to older people who have lost near vision and can no longer work is a tremendous feeling. Clear vision is a gift that increases opportunity and allows people to take in the details of life. With clear sight, people can be productive members of their families and communities again. It's thrilling to see that we're giving them a piece of their life back." Dr. Anderson added, "I challenge other doctors to step outside of their comfort zones and stretch themselves emotionally, physically, and mentally by getting involved in OneSight's programs."
PLANNING AHEAD
"We can't do the work we do without optometrists. We welcome people to join us," says Overbey. "It's pretty gratifying." Learn more at onesight.org.