Luxottica Retail knows its metrics. The organization has been gathering data for decades that help support the growth of the brand. Much of what it has learned is also useful to doctors building their practices, and now, the company is using that knowledge to help doctors regardless of their work setting to build their practices, says Weslie Hamada, OD, FAAO, the newly appointed senior director OD Engagement at Luxottica Eye Care North America.
"My role is to bring growth to practices via programs for doctors. Luxottica has been offering marketing support and programs within the Luxottica family, but we're excited to expand this to all doctors. Luxottica is dedicated to supporting the professionals, wherever they are," she says.
There are several avenues by which Luxottica is reaching out to more current and future optometrists, regardless of practice location.
The first was introduced at the Southern Council of Optometrists (SECO) in February where Luxottica was offering two COPE-approved CE sessions on practice management to affiliated and nonaffiliated ODs. One of those hours aligns with the type of programs that Luxottica Eye Care has provided to its affiliated ODs although this program is brand-agnostic, Dr. Hamada says. Both sessions are facilitated by Torrey Carlson, OD, of Johnson City, Tennessee. Called Marketing Your Practice and Patient Acquisition, the one-hour CE session, co-facilitated with Brian Johnson of Luxottica, encourages participants to set their practice apart from the competition through targeted marketing and messaging. The session details marketing basics, platforms and channels, audiences and traditional-versus-trending outlets so that practitioners can learn how to gain patients with a thoughtful plan.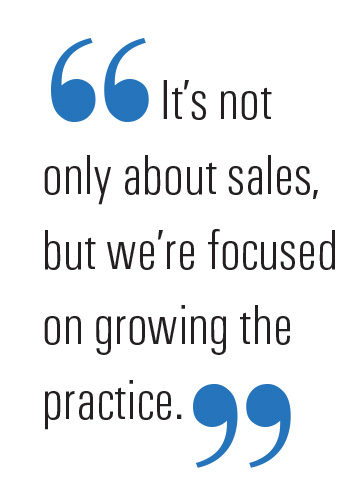 In the second session, Your Practice Vision, Dr. Carlson walks through the steps of defining a practice vision as a foundation upon which all decisions and actions are based. During that session, participants learn how to define, craft and implement the vision and build a team and practice that mirrors it.
In addition, Luxottica will be providing online resources that complement the COPE CE learning in development. These video learning modules that reinforce the lessons included in classes will be available at no cost to doctors.
The third way that Luxottica is providing greater outreach to future ODs is through an expansion of its EyeFWD program. In the past, 30 students from the nation's optometry schools spent an immersive five days at a business development program at the Luxottica headquarters. During this program, students gained a broader understanding of how to build and maintain a successful practice after graduation. The program combines classroom instruction, lectures from practicing ODs and interactive sessions and work sessions, allowing students to leave with a working business plan in hand.
The program, which is designed to supplement the practice management training students gain in school, will be delivered at nine optometry schools this year, starting with one "jam-packed day at the University of Houston College of Optometry," says Dr. Hamada. "We'll look at everything from how they talk to lawyers and analyze real estate to starting or growing an optometric business."
Dr. Hamada says that she's thrilled to be part of the outreach. "When a company like Luxottica can supplement the experiences for new ODs, we can help them go comfortably into the workplace. That elevates patient care, and it elevates the profession," she says. "And when the professional continues to grow and flourish, it will help the company ultimately."
That's where the power of Luxottica's retail and business metrics can help. "It's not only about sales, but we're focused on growing the practice. Our team in professional relations is focusing on the doctor. There are so many elements to being a small business owners, such as understanding the brand and the mission of your practice. From a high-level view, Luxottica can help."
The timing is right, she adds, because the demand on ODs is increasing. Students today have the benefit of continuing research in ocular health and expanded scope of practice, yet that means that they need to be ready for the clinical work. Schools also typically offer more practice management courses than they did, but those classes may not get into the nuance of marketing and brand development.
"In everything that I have done in my career, I look at how I might make a contribution to the profession and to my colleagues. This is such a great opportunity to work with programs that are going to be relevant to doctors, no matter where they work or where they are in their career cycle," she says.
The fact that these programs are being delivered by Luxottica Eye Care can help "shape the value proposition in our brands for doctors who go through these programs, but the programs rise beyond brand."