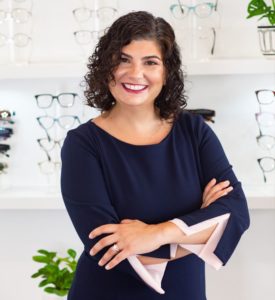 When Stephanie Mastores, OD, decided to open her own practice, Blink Eye Care Phoenix, in Phoenix, Arizona, in October 2021, she did so because she wanted to have control over the depth of conversation she could have with patients. That's particularly true for conversations about ocular health and preventive care. "I had been working in a private practice that had a high volume, and I wanted to take a little more time, do things my way," she says. When that practice was considering an ownership change, Dr. Mastores felt this was her chance to take more control over her career.
THE RETINA IS THE WINDOW TO THE SOUL
One of the areas where Dr. Mastores likes to spend her time in educating patients is on retinal health. She takes retinal images for all patients and likes to review retinal health with them. "I emphasize ways that they can keep their eyes healthy for life, and supplementation with nutritional supplements is one of the steps I recommend, along with wearing good sunglasses to protect their eyes from UV rays and keeping their blood pressure and diabetes in check," she says.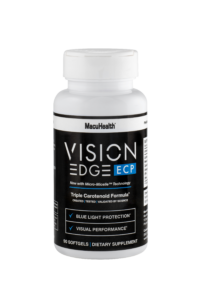 With her primarily younger demographic, she introduces patients to Vision Edge ECP, MacuHealth's proprietary blend of fish oil and the three critical carotenoids – lutein, zeaxanthin and meso-zeaxanthin. The formula is clinically proven to replenish macular pigment for increased visual performance and eye protection. "I have been using MacuHealth products since the beginning of my career 12 years ago. I have seen great results with drusen disappearing or not getting worse. My patients say that they are seeing better, and I really believe in the product," she says.
While Vision Edge ECP augments macular pigment, it also has been shown to enhance visual performance and contrast sensitivity. Patients – including athletes – appreciate the improved visual processing and visual reaction time that results. With these performance and contrast improvements, these users notice improved tracking, depth perception, field awareness and photo-stress recovery.
ABOUT THOSE FLOATERS

She is also enthusiastic to start talking to patients about the VitreousHealth from MacuHealth. "The second most common reason that patients call with a complaint – after dry eye – is because they're seeing floaters."
She is awaiting her first shipment of the products, and she already identified five patients who are eager to start. "They are all excited to try this, and I want to see how they react. I'm not afraid to try new things, and patients like that I'm an early adopter of technology and products that will help.
Researchers have found that patients taking VitreousHealth, compared to the placebo group, saw improvement in the visual comfort, contrast sensitivity and daily visual experience. In addition, in a six-month trial period, OCT imaging showed that floaters in the eyes of patients taking VitreousHealth became smaller and less opaque while floaters in the eyes of patients in the placebo group became larger and more opaque.
NOT ALL SUPPLEMENTS ARE THE SAME
Dr. Mastores listens for the patients' cues on how much of the science to share. "Some patients just want to get in and out, and others ask, 'What can I do?' I love that lead in," she says. She recommends MacuHealth and Omega 3 supplements. "I can explain how oxidation impacts signs of aging in our skin, and, similarly, how the eye is highly susceptible to aging. I explain that the right antioxidants can help," she says. For patients who are already showing drusen or other signs, she can recommend the MacuHealth and emphasize the importance of getting started with antioxidant protection to all patients.
She mentions that the MacuHealth formulations include meso-zeaxanthin and is the only one of the readily available formulas that includes this important antioxidant.
"Early in my career, I felt like I was 'selling' the supplements and as a result, patients probably felt like they were being 'sold.' But my thinking has evolved. I make this recommendation because I think this is best. I tell my patients now that I've done the research for them – and I'm glad to refer them to it, if they want to know."
By having the products available in her office, she is also making it easy for the patients. Looking at vitamin and supplements in the pharmacy or health store aisle is intimidating. "We make it attractive, and we offer that if they buy three 90-day supplies, we give them one free. That takes their monthly cost down to about $20 and when get down to their last pills, its also time to get their next annual eye exam."
That message reinforces the importance of an annual eye exam as part of the focus on wellness. Patients appreciate her encouragement that they can take steps now to keep their eyes healthy.