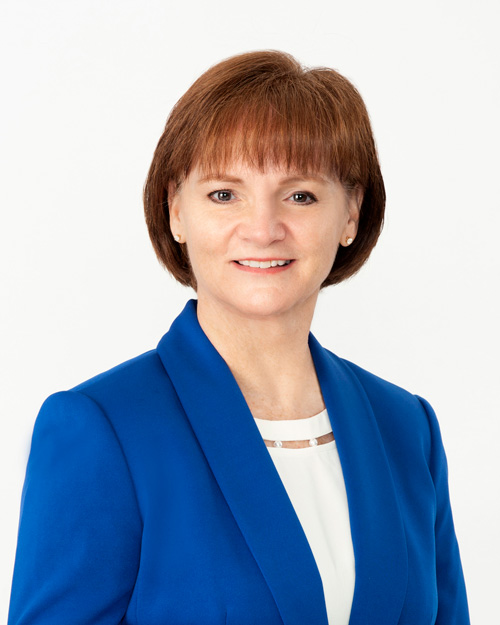 Like many other ODs, Donna Shotwell, OD, spent years believing that she and others could do very little to prevent or accurately predict the progression of age-related macular degeneration (AMD). Almost all of the patients in her Sarasota, Florida, practice are over the age of 50; in fact, 80 percent of her patient base is geriatric.
With AMD patients or suspects, setting follow-up schedules was challenging. There was not a real way to gauge how quickly a patient's macular status could turn from dry to wet. "At some times it felt like it was just a shot in the dark because we really couldn't follow it. I had no idea how to answer the question: How often should I see this patient? The patient might have very early changes, maybe a couple of drusen here and there and I'd think, 'Oh, a year should be fine.'" She'd take the patient's family and clinical history into account, but "I had really no pathway to say, 'Okay, we need to see you this often now.'"
Groundbreaking Information
Acquiring the AdaptDx from MacuLogix is changing the way Dr. Shotwell and many other optometrists care for their AMD patients. AMD is the most common cause of blindness in this country, so having the ability to detect AMD at its earliest stages and then proactively manage the condition is groundbreaking, she says. By measuring the patient's dark adaptation, she is able to get a better sense of the patient's retinal function. It's such a difference from in the past where she typically had to deliver the sobering news: "By the time you have vision problems, it's going to be a little bit late." Now, she says, with the ability to track patients' progress every three-to-six months as opposed to every year, this technology has become the new standard for care, as far as she is concerned.
The test measures how quickly the patient's eyes adapt from bright light to the dark and provides one simple output called the rod intercept (RI). For patients with an RI of 6.5 minutes or less, she'll reschedule for the following year. She asks patients who adapt in nine or 10 minutes on a first test to come back in four or six months to repeat it, and for those who require 18 or 19 minutes to adapt and have clinical signs, an immediate appointment at the ophthalmologist often is warranted. Plus, the RI number is something concrete she can discuss with each patient and monitor over time for changes.
When medically necessary, initial and ongoing AdaptDx testing (CPT 92284 for dark adaptation) has been reimbursed by Medicare and private insurance companies since she began doing it, she says.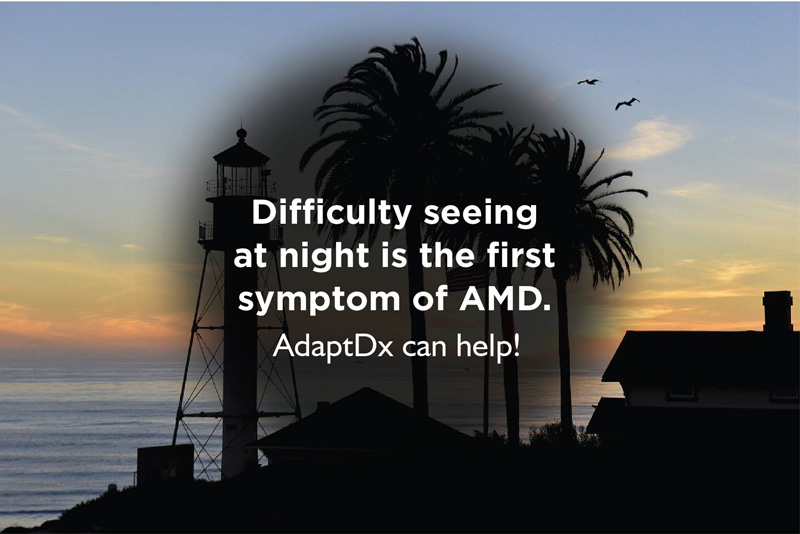 Patient Education
Patients who are concerned about their own visual health because of family history are also feeling more hopeful. "I have so many patients who say, 'My mom has macular degeneration,' or 'My dad has macular degeneration.' Once they find out that they can have a test done that might give them that three- or four-year advance notice, they jump at the chance and are willing to pay out of pocket," she says. If she detects subclinical AMD, these patients tend to follow her counsel to quit smoking, change their diet or add nutraceuticals and protect themselves from exposure to harmful light.
She appreciates both the ability to explain to patients their own possible trajectory and give them hope for being able to avoid anti-VEGF injections. "We've been able to delay the onset of symptoms associated with late-stage disease for these patients," she says. When necessary, with patients showing dark adaptation function (which is 90 percent sensitive to the presence of AMD), she works with them to create some lifestyle modification plans. "The first thing you need to do is stop smoking," she tells them. "'Do you think you can change your diet? Do you think you can add kale and spinach and all those green leafy vegetables and sweet potatoes and anything that's yellow, orange or red?' And if they say, 'No,' then I'll say, 'Well, I think we need to add some nutraceuticals.'"
Being able to include the AdaptDx into the exam process and discussions has been tremendously helpful for her practice and her patients. "When you have cutting-edge technology like the AdaptDx, it would be a shame to not be able to use this for your patients. Earlier detection and more proactive disease management will give us the best chance of halting the disease—or catching choroidal neovascularization before irreversible vision loss occurs."