By Frances Bynum, OD, Northwest Tennessee Eye Clinic, Martin, Tennessee
Reports indicate that a staggering 78 percent of patients are first diagnosed with age-related macular degeneration (AMD) having already suffered irreversible vision loss, and nearly half of them are first diagnosed with an acuity of 20/200 or worse.1,2 This unacceptable and avoidable reality was a primary topic of discussion at the second annual meeting of AMD Ambassadors in Hershey, Pennsylvania. The group of nearly 30 optometrists is dedicated to elevating the standard of care in AMD to a level that reflects accessibility to modern disease-detection technology.
Many of the attendees first realized the need for more education following the release of a 2017 study published in JAMA Ophthalmology, which revealed that both optometrists and ophthalmologists are missing AMD about 25 percent of the time.3 That's a terrifying thought when you consider the prevalence of AMD; it is at least three times more common than glaucoma.
Our meeting focused on a discussion of how we diagnose, manage and treat AMD in our practices, followed by a deeper discussion of how the group can help communicate modern standards of care to a larger audience. However, Theia, an artificial intelligence-driven onboard technician, proved to be a real show-stopper.
This technology is built into the recently released AdaptDx Pro, a second-generation dark adaptometer from MacuLogix. The revolutionary new device includes all the functionality of the company's tabletop dark adaptometer in a self-contained wearable headset that was custom-designed and tested for patient comfort and requires no darkroom—so patients can take the test anywhere in the office, in any light. After the office technician selects the testing protocol and places the device on the patient, Theia takes over to facilitate a reliable, consistent test by using automated instructions and adaptive feedback spoken directly to the patient.
This makes it easier than ever to fit dark adaptation testing into any practice workflow. Not only is the entire experience improved for everyone involved, but the addition of Theia's artificial intelligence helps ensure consistent, reliable testing results. The AdaptDx Pro is truly a revolutionary way to measure dark adaptation quickly and effectively in virtually any clinical setting, without eating up too much staff or doctor time.
WE GO WAY BACK
Theia is cool and has a "wow" factor that will help set your practice apart. I purchased the original AdaptDx a year ago. Today, I'm an even greater advocate because dark adaptation testing to detect and manage AMD is now much more practical for ODs in virtually any setting.
The original AdaptDx has been used by more than 1,000 eye care professionals to identify and monitor AMD in its earliest stages and has significantly lessened the profession's reliance on risk assessment by delivering an objective output, such as rod intercept time (RI), that can lead to a definitive diagnosis with 90 percent accuracy.
In my practice, when a patient fails the test, we develop an individualized plan. One of the most important common aspects of our AMD management plans is closer monitoring for potential disease progression. In the past, we were often caught off guard by sudden vision loss. But now, we see the signs ahead of time because patients are coming back regularly. If someone's RI gets longer and longer, we know that patient is headed for trouble, and we address it proactively.
This can be a life-changer, even for patients who reject supplements and any other treatments we propose. In short, incorporating dark adaptometry in all primary eye care settings will revolutionize how we detect and manage AMD. And the AdaptDx Pro with Theia makes this easier for both our patients and our practices.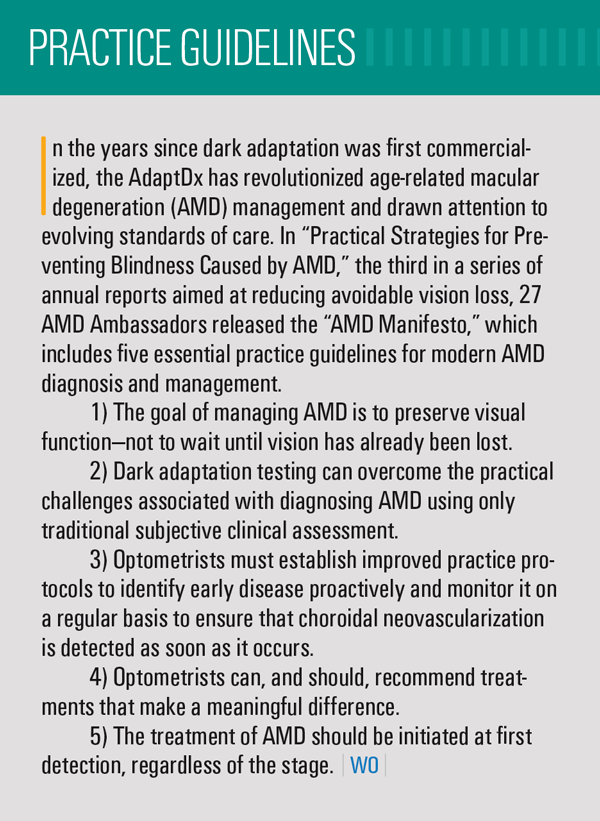 References
1 Olsen TW. Ophthalmology. 2004; 111(2):250-255.
2 Cervantes-Castañeda RA. Eye. 2007; 22(6):777-781.
3 Neely DC. JAMA Ophthalmol. 2017; 135(6):570-575.