By Leslie Gallagher, OD, FAAO, of Holton, Kansas
Like many of my colleagues, I have experienced a rollercoaster of hopes and disappointments these past weeks. I saw my last routine patient on March 2, just before taking my kids to Honduras for spring break.
At that time, COVID-19 was something that was "half a world away." Upon our return, we followed our local health department's guidance to self-isolate for 14 days, and during that time, the governor closed schools and a few days later issued a shelter-in-place order. The state board of optometry issued a notification telling us to cease all routine care or risk disciplinary action.
Our clinic did see numerous emergency cases in the seven weeks that Lifetime Eye Care was closed for regular business. We furloughed all 15 staff members and doctors for about four weeks. Approximately half of our staff, including myself, have school-aged children. So we were overseeing the continuous learning curriculum for our kids while waiting for unemployment benefits to kick in. Knowing that our devoted staff was not receiving benefits was the most stressful time during the entire closure for me. Thankfully, working with our local banker, we were able to receive our Paycheck Protection Program (PPP) loan in the first round. That allowed us to bring our staff back to work and off unemployment—one less thing to worry about.
Throughout this time, we followed the only logical course of action: keep moving forward. In spite of the challenges of maintaining social distance and locating sufficient protective equipment for the office, we are finding ways to remain solvent. We've had a lot more time outside of the lane to ponder better and smarter ways to practice and have developed several strategies toward that goal. The list is always growing, but here are three changes that we are implementing right away.
OFFER A MORE COMPREHENSIVE MEDICAL EXAM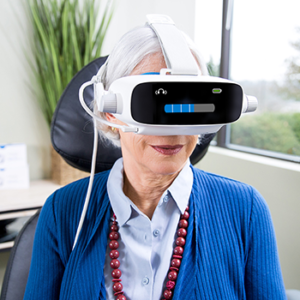 The medical model is more important than ever before—for our patients' overall health and the practice's bottom line. Gaps in care are likely to be more prevalent than ever before and, because patients are also skipping visits with other care providers, we need to be more diligent than ever. We should think about what tests we might want to perform at the next visit. In case the virus resurges, the patient's next visit might not come soon enough.
Now, I am using as much of every allotted exam time as possible to perform all the tests that I otherwise wouldn't have been able to fit in at a single visit. This includes dark adaptation testing with the AdaptDx for all patients over age 50 who indicate that they have difficulty with night vision. The slightly slower pace of patient care allows me to be much more intentional with every patient encounter. Plus, my documentation has never been more thorough.
LIVE YOUR "WHY"
I didn't go into optometry only to make a decent living; I wanted to offer excellent patient care and make a difference in people's lives. The forced slower pace can help renew our satisfaction with our professional careers, reminding us why we chose optometry. I am thrilled not to be sitting at home in my PJs stressing about work but once again am providing patient care.
As much as the lower volume hurts financially, this is an opportunity to connect with patients like we've not been able to previously. We can take the extra time to listen and educate them about their health and vision. One recent patient thanked me after her annual diabetic eye examination, saying it was the "most normal" thing she has done for nearly two months. We have this opportunity to strengthen the bonds we have with our patients in unforgettable ways.
FOCUS MORE ON AGE-RELATED MACULAR DEGENERATION (AMD)
AMD is more prevalent than glaucoma and diabetes combined. While I performed tonometry on every patient, I wasn't testing dark adaptation on every patient over a certain age or with a night vision complaint. It didn't seem practical in a crammed schedule. With my renewed appreciation for overall health, I know that being vigilant not only saves sight, it drives revenue. Patients with high Rod Intercept times as a result of impaired dark adaptation function require additional testing, including optical coherence tomography. A confirmed diagnosis of early or subclinical AMD provides me with the opportunity to discuss optical and nutraceutical needs, which benefit the patient, foremost, but also lead to additional revenue. With fewer patients, each exam slot is more valuable. My intention is to maximize each interaction.
Our year-end finances will show a loss as a result of COVID-19. Even as health care providers, we are not immune to unemployment. Despite these disappointing truths, this unexpected dose of reality has given me a much clearer sense of what I should have been doing before, what I need to be doing now, and what I hope to be doing in the many years ahead.