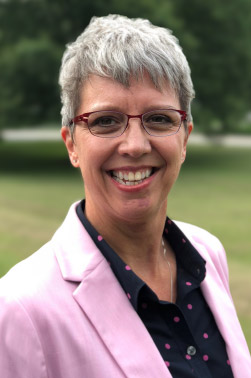 Amanda Lee, OD, has achieved an array of career goals in the years since she graduated from Pennsylvania College of Optometry in the 1990s. But despite—or due to—the diversity of her accomplishments, Dr. Lee's professional trajectory has been strikingly direct. Here, she talks to Women In Optometry about how defining her "why" helped her steer her choices, leading her to her current "dream job."
Why did you choose optometry?
I wanted to become an optometrist so that I could help people by optimizing, preserving and protecting their vision. That is the one core principle that has guided me every day.
What positions have you held since graduating from optometry school?
I've been a practicing clinician for more than 20 years and a Vision Source administrator for more than 10 years. During that time, I've co-owned two practices and have served as a consultant and speaker for several eye care companies. As of a few months ago, I became the director of professional relations at MacuLogix, serving as a clinical partner to our customers, eye care professionals and industry partners.
How has speaking and consulting helped you develop professionally?
Since I traveled out of our office quite a bit, I was exposed to more eye care offices than is typical. This opened my eyes to new technologies and standards of care that I was able to take back to my own practice. It also exposed me to some true optometric thought leaders who were pushing our industry to do more and be better—and inspired me to step up! I always felt that as a speaker and consultant, I learned more from my audience than I imparted.
Name the biggest discovery you made as a result of being at the forefront of optometric education.
I learned that eye care professionals of every kind are missing age-related macular degeneration (AMD) in at least one-out-of-four patients; and three-out-of-four AMD patients are self-diagnosing only after one of their eyes has an acute decline in vision.1,2 At that point, it's most often too late, and damage to the retina is not repairable. That means that there are a few hundred patients walking out of our practice each year without either of us (patients or the doctors) knowing if they have early stages of AMD that we could be treating today.
Was there anything you could do in your practice to improve these AMD statistics?
We weren't sure at first, but I was definitely committed to trying. That's why, in 2017, my business partner and I starting using the AdaptDx dark adaptometer in our clinic. The AdaptDx promised to help us find patients with subclinical AMD up to three years before we can see it in the retina.
Has the technology worked as well as you hoped?
Better. I was suddenly detecting a lot of new cases of AMD. With the first few patients, I was worried they wouldn't like hearing the news of an early AMD diagnosis. But the patients proved me wrong. While surprised, they were thankful that we had the technology to diagnose the disease and the knowledge to help them understand it. Some were even relieved as they could finally make sense of why they were having so much difficulty seeing at night. Overall, things were going very well for our patients and for our practice once we integrated dark adaptometry.
If things were going so well, why would you choose to leave private practice for a corporate role?
Helping people by preserving and protecting their vision was my "why," but I still wavered a bit with my "how." I was making a big difference in the few thousand patients I was seeing per year in my own practice, but I wanted to do more. I know in my heart that optometrists have the ability to change outcomes in AMD. They already have the knowledge and the technology; they just need to be shown how to put those into practice. This was the same way that we were shown—by our colleagues. By taking this position in industry, I could be an agent of change and make a real dent in outcomes nationwide, rather than exclusively in our own backyard.
It sounds like you found your life's calling.
I don't know if it's a calling or a crusade; in either case, I want to leave people better off than I found them—especially now since AMD is becoming more prevalent with our aging population. AMD (9.2M) is more prevalent than diabetic retinopathy (4.9M) and glaucoma (2.7M) combined3, and that AMD number will double in the next 20 years. The more we understand how tools like the AdaptDx can offer early diagnosis, the less our patients will needlessly lose their sight. It's so simple, but this can make such a tremendous impact for so many millions of people. And for me personally, this is a fantastic reason to get up in the morning!
I wish I could shout it from the rooftop to all my optometry colleagues: please, join me in my mission to eliminate avoidable blindness caused by AMD.
You can reach Dr. Lee at alee@maculogix.com.
1 Neely D, Bray K, Huisingh C, Clark M, et al. Prevalence of undiagnosed age-related macular degeneration in primary eye care. JAMA Ophthalmol. 2017;135(6):570-5.  2 Olsen TW, Feng X, Kasper TJ, Rath PP, Steuer, ER. Fluorescein angiographic lesion type frequency in neovascular Age-Related macular degeneration. Ophthalmology. 2004; 111(2), 250–255. doi.org/10.1016/j.ophtha.2003.05.030. Accessed May 23, 2018.
3 American Academy of Ophthalmology. Eye Health Statistics. https://www.aao.org/newsroom/eye-health-statistics. Accessed February 5, 2018.