Patients at Progressive Family Eye Care in Plymouth, Michigan, receive reminders to come in for their annual exam and to use their flexible savings dollars before they expire in the months leading to the year's end. "We want patients to take full advantage, so we send out a postcard and make it a point to address on our website and social media," says practice owner Sarah DiPonio-Tulchinsky, OD. Passersby might see a sign in the window. "It jogs a lot of people's memories that they have money in their health accounts and can get a new pair of eyeglasses or order contact lenses." It can also remind them if they haven't had an annual eye exam in 2015. For many patients, annual eye exams are covered services, so even patients whose health savings dollars roll over can have an incentive to come in.
She says that this little extra push picks up business during November and December. Dr. DiPonio-Tulchinsky and her staff also schedule a reminder for themselves as the holidays approach: take time to evaluate what's been happening in the optical dispensary over the past 12 months. "As we go forward into the new year, we reassess frame lines, pricing and what's been selling," Dr. DiPonio-Tulchinsky says. The practice may make tweaks to its offerings throughout the year, such as swapping out a style that isn't moving from the board. But this is the time of year when she and the staff look at the big picture and their frame lines overall. "You need to give a frame line a fair chance and a full-year cycle before making changes," Dr. DiPonio-Tulchinsky explains. "Give your patient base a chance to respond."
Doctor and staff work with frame representatives to prepare for the changes in stock, and the team from Marchon has been a part of these discussions since Dr. DiPonio-Tulchinsky started her practice cold in her hometown in 2009. An array of brands from Marchon has been a part of the dispensary since she opened, and it has evolved and grown over time due to patient response. Currently the practice carries frames from Salvatore Ferragamo, Nike, Nautica, Lacoste, X Games, Calvin Klein Collection, Flexon and the core Marchon line. "There is name and brand recognition with certain products," she says. "Marchon offers high quality, and there is a wide price range from the core Marchon to the Salvatore Ferragamo. There is something for everyone in the mix." Nike has been a top-seller in the practice, certainly due to its name recognition among patients of all ages, and also its sporty, lightweight styles. Patients looking for a high-end product often love Salvatore Ferragamo.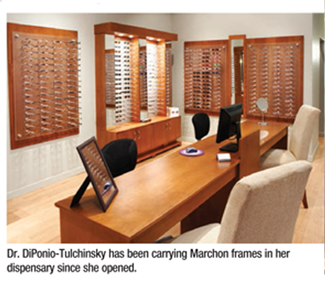 With a focus on family eye care, Dr. DiPonio-Tulchinsky says that she stresses to parents the importance of seeing young kids into adulthood. So it's important that her frame offerings also continue to attract her youngest patients so that parents don't have to take their children elsewhere to find the cool eyewear they want. The Nike Kids and X Games frames are very popular for boys and girls in her office. The core Marchon line offers great children's products for a lower price point. "The Lacoste Tweens collection has been expanding over recent years," she says.
Dr. DiPonio-Tulchinsky and her staff can turn to their Marchon representatives at any time for advice, and conversations will soon begin for 2016. "They are very knowledgeable about their products and what's selling and not selling as far as style and color," she says. "It's a huge help when something is not working, and they can redirect us to a brand that will be more successful." Each year as different choices and changes are made, Marchon continues to remain a strong player on the frame displays at Progressive Family eye Care. "We've had a great experience with the company, our reps and the product lines and their diversity of products." The variety of styles and price points continues to be a great draw for the practice and its patients.