Patricia Poma-Nowinski, OD, FCOVD, of Birmingham Vision Care in Bloomfield Township, Michigan, calls herself a
stickler for a schedule. "Patience is not my virtue, so I want patients to know we respect their time. The practice staff and doctors have
an instant message system they use so that they can alert a doctor if a patient has been waiting for five minutes. Staff members approach and explain any delay if a patient needs to wait longer than five minutes," she says.
Recently, the practice added the Marco TRS autorefraction system to all six of its exam lanes. While the doctors had purchased a
single TRS system earlier for one lane, they hadn't really learned how to leverage its capabilities. With the automated system in each exam room now, there's more buy-in to the system, and it is reaping rewards.
First, it helps improve patient flow. "The technicians are doing some of the refractions. I check and finalize the prescriptions, but it saves time with each patient," she says. The practice has a strong reputation in working with binocular vision issues, so many refractions are complex. "The data from the Marco system also helps us identify those patients whom we might not be able to get to 20/20 for some reason, too."
Secondly, it has resulted in increased revenue per patient. The time that formerly was spent on working through the refraction process can now be rededicated to patient education. "We want to be able to explain the latest advances in technology to all of our patients. We want to tell them about new ophthalmic lenses and contact lenses that could benefit them," she says. The practice has also increased its percentage of patients in daily disposable contact lenses to about 80 percent of the appropriate candidates. That's
a huge shift that came about, in large part, through a decision by the doctors to make those recommendations proactively during the
exam. In other words, those minutes saved in the refraction process help Dr. Poma-Nowinski cover more ground, whether it's on the new products, new services or the importance of eye health for every member of the family.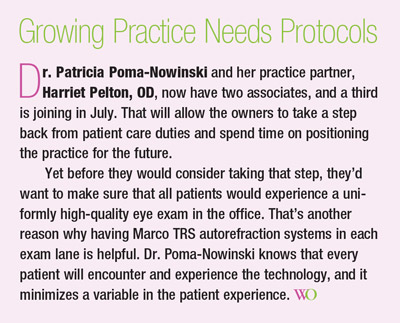 "Having the TRS in the exam room allows us to use the feature where we can toggle between the patient's previous eyewear prescription and what we've arrived at that day," she says. It's important that patients have the chance to determine, subjectively, how noticeable the improvement is, rather than trying to decide whether a small numerical change warrants a new pair of eyeglasses, she says.
While all of those factors have a direct, positive impact on the practice's bottom line, another benefit has been that the technicians appreciate the increased involvement. In today's competitive hiring environment, a higher level of staff engagement is an important part of retaining quality staff members.
Finally, the patients appreciate the technology. "We're known for our high-technology office," says Dr. Poma-Nowinski. But much of
that technology is reserved for special testing with only some percentage of patients. All patients now go through an automated refraction process, and many of them comment on it. "I didn't think that patients really cared about the technology. But once we began using the Marco system, we heard from many patients who said they were glad that we weren't using that dated, old system anymore," she says. That surprised her initially, but then she realized that the technology does more than deliver fast and accurate refraction data. It also takes the pressure off patients to give the right answer during the refraction.
"It's important to stay current with technology and measure improvements to the office in terms of the patient experience," she says.
Calculate Your ROI
Many ODs have reported to Marco that they are able to save about four minutes per patient exam with the fast and accurate XFRACTIONSM process. For a typical practice that sees 16 patients a day, that would be a savings of 64 minutes per day or 320 minutes—or 5.3 hours—in a five-day workweek.
On a monthly basis, that means a savings of about 21 hours—which is more than two days per month. Using the initial assumption that a practice sees 16 patients a day, reclaiming 2.5 days per month means finding room in your existing schedule for an added 40 patients per month—without adding any time to your or your employees' days.