Even before Laurie Sorrenson, OD, FAAO, of Austin, Texas, had finished designing her expanded Lakeline Vision Source® practice, she already knew that she wanted to add Marco TRS-5100 systems to her four new exam lanes. As her old lensmeter and topographer needed replacing, she selected a Marco lensmeter and the OPD-Scan III so that when she was able to add the TRS systems, the equipment would all be integrated.
In April 2015, she, with her five associates and about two dozen staff, moved into the larger practice. Along with a lot more space—8,300 square feet now compared to 6,000 square feet before—the practice has 10 exam lanes rather than four. The equipment from six original lanes was moved to the new locations, and a TRS-5100 system was installed in each of the four additional lanes. Four ODs work at a time, so each has access to one lane with the TRS system in it. "I wish we had more," says Dr. Sorrenson. The benefits range from a patient wow factor, speed and ergonomic ease.
"I wanted a high-tech patient experience throughout the office. The old manual phoropters have not changed in decades, so the
TRS system is something patients notice," she says. It's an easy and stress-free refraction for patients, leaving her more time to talk about solutions for their vision correction needs or ocular health issues.
"Having the TRS makes it fun for me because it's different. I love that neither I nor my staff have to input any data. I'm
not entering 20 keystrokes with my back turned to the patient because it's all imported with the click of a button, and it's accurate," she says.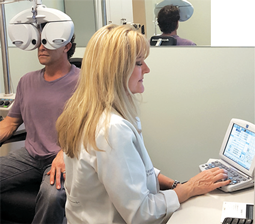 Dr. Sorrenson says that after a short time, she realized that her refractions were going faster. "I can spend more time talking to
patients about the importance of buying multiple pairs of eyewear or upgraded ophthalmic lenses or treatments," she says.
With the TRS, she can show patients the difference between their old eyewear and the new prescription with a simple toggle between the two. "It is fast and easy," she says. Dr. Sorrenson suggests, "Instead of saying this is your current eyewear and here's the new one, we ask, 'Which is better, 1 or 2?' The first is the old eyewear and the second is the new prescription." It's a handy way to let the patient make a final subjective determination.
Dr. Sorrenson says that she has plans to add TRS systems to at least four of the other exam lanes. Until then, she will begin to
upgrade to the Marco video screens and digital charts in all exam rooms soon. "It's such great visual acuity software, and patients like it so much better," she says.