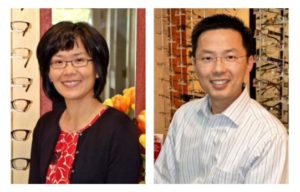 Kim Eng, OD, and Wendy Lim, OD, have been husband and wife partners in practice for more than 25 years. With more than 600 patient reviews and a 97.5 percent recommendation rate, Redwood Eye Clinic is the leading provider of eye care services in Woodinville, Washington. In addition to its comprehensive services, the practice is also known for its suite of technology. "Keeping up to date with equipment has helped us solidify our commitment to patient care. It's something patients don't experience elsewhere, and they appreciate it," Dr. Lim says.
EFFICIENCY IN THE EXAM LANES
Dr. Eng and Dr. Lim first heard about the Marco automated refraction system a few years ago, and they felt that the technology addition would be a great way to save time and develop a more seamless workflow. They began by adding a TRS automated refraction system into one exam lane and soon added more. Currently, all of their exam lanes are automated. "We love that we're able to streamline the data process by downloading and transferring test results. It eliminates possible transposition and human errors as well," Dr. Lim says.
In addition to the reduced refraction time, it is a wow factor for patients who are all too familiar with manual dial phoropters. "We're able to show patients a comparison of their old and new prescription quickly, which helps drive sales in the optical. Patients often comment on our use of modern equipment and appreciate the elevated care we provide," Dr. Eng says.
EXTRA DISTANCE
With the automated refractor, Dr. Eng and Dr. Lim are able to provide the same amount of patient care at a greater distance because they can use the tabletop console instead of sitting knee-to-knee with the patient. Dr. Lim, an emerging presbyope, says it's also helpful to not have to read numbers on manual phoropter dials in dim lighting.
WITNESSING DRY EYE IMPROVEMENTS
Redwood Eye Clinic offers a wide range of specialty services, including dry eye disease management, myopia management and specialty contact lenses. Both doctors found that equipment additions have allowed them to keep patients in-house.
Their most recent purchase is the Equinox Low Level Light Therapy (LLLT), which uses photo-biomodulation to stimulate the production of adenosine triphosphate (ATP). "Early clinical results are looking optimistic. One patient who has been suffering with a chronic hordeolum that didn't respond to traditional therapy has finally turned the corner after undergoing LLLT treatment and is happy about her results," Dr. Eng says.
Dr. Lim has seen promise with this technology, too. "I have many severe dry eye patients with significant meibomian gland dropout. After going through LLLT therapy, I've noticed some regrowth of meibomian glands, and increased tear meniscus and tear break-up time. Most importantly, patients report improved symptoms. I am very happy that I can offer this technology to help my patients feel better," Dr. Lim says.
The dry eye treatment has offered a new revenue stream and patient referrals. "It's great that we can treat patients from start to finish, without having to send them to another practice. Patients lose their patience when they feel like they're being shuffled around, and we want to minimize that as much as possible," Dr. Eng says.
WIDENING PATIENT BASE
The practice is the home of many loyal patients, but it is also bustling with new patients. "Equipping our office with Marco has helped to streamline our office and solidified our clinic as a modern, technologically advanced practice, and the impact is huge. We have received a lot of referrals and developed close doctor-patient relationships," Dr. Eng says.