When Kaori Asano, OD, opened her practice cold nearly three years ago, she got some very important
advice from her consultants. "You can buy used equipment for just about everything, but not your automated refraction system," they told her. Just a little west of downtown Chicago, in the city's former meat-packing district, her office is across the street from Google's Midwestern headquarters. The neighborhood is transitioning into a tech and corporate hub, with McDonald's global headquarters, Dyson, GE Medical and others nearby.
"These are people who want to be wowed. There are also lots of millennials in the area, and they want things yesterday," she says. She knew Eyes on Fulton would not survive there if she underwhelmed her patients with a manual refraction, she says. So she started with the instrumentation and equipment that she needed. That included the high-tech Marco TRS-5100 and an edger so that the office could finish some jobs quickly. "It motivates people to buy from us when they know that they can have the finished eyewear soon," she says.
WOW all patients
She has other high-tech instrumentation for testing, but she loves having the Marco system because all patients interact with it. "So many patients comment about how high-tech it is. They say, 'I can't believe you're not going to ask me about one and two.' Once patients don't have to make that decision about which is clearer, they really enjoy the experience of the exam."
Patients also feel assured about the results. "They're confident that they didn't make a mistake in answering. The toggle switch that allows me to show patients their current refractive correction and the new one helps with that, too," she says. "I so often hear them say, 'Oh, that's such a big difference,'" even if she might not have presented it that way based on the refractive change.
Improved patient flow
Using the Marco technology also helps streamline the patient flow. It's set up in her one exam lane, and she does the refractions
herself. "It's so fast and simple, and I can begin the discussion with patients about their eye health," she says. She also finds that her time with patients is spent in more comprehensive and uninterrupted conversation. "Before, when I was doing manual refractions, I would have to stop to write notes," she says. The process didn't lend itself well to having a conversation with patients. But now, "nothing is lost in the translation. I don't have to stop to transcribe, and there is no wasted time. As the refraction process is going on, I can update other notes quickly if I need to."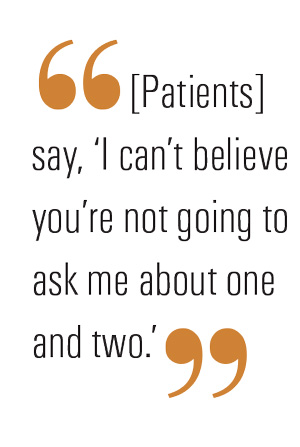 Maximize efficiency
With only one exam lane equipped right now, it's important that she's efficient. She needs to make good use of the time that she
spends with the patient, so starting off with a fast and accurate refraction helps. Then she can spend the time talking about multiple pairs of eyewear, upgraded lens options, contact lenses and more before turning the patient over to her optician.
As growth continues, Dr. Asano will be able to expand into a second lane. She also knows that if she needs to hand the refraction process over to a pretester so that she can see more patients, she would feel confident with that choice because of the Marco technology that she has.