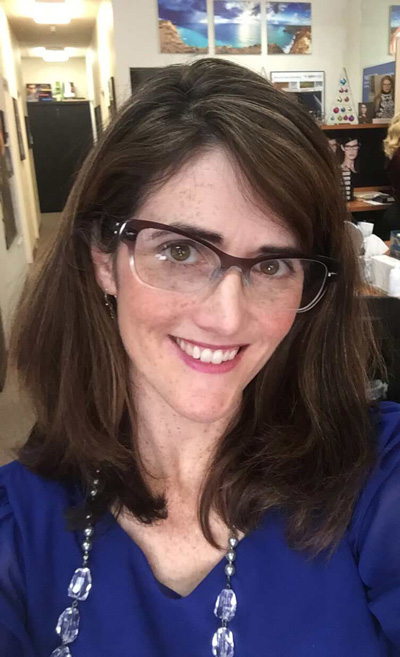 Veronica Barber, OD, FAAO, says that when she's assessing whether to add technology, she typically focuses on how it will benefit and impact the patient. However, the start of her relationship with Marco was a bit different. Dr. Barber was suffering from a repetitive stress injury in her forearm that led to a diagnosis of tendonitis in 2017. After 15 years of practicing, she says that she was in miserable pain and couldn't turn the dials or even grasp a doorknob. Dr. Barber had used Marco's autorefraction technology during her time serving in the U.S. Air Force and began researching the best fit for her practice, Vista Point Eye Care in Roseville, California.
In February 2018, she added the Marco TRS-5100 and the OPD-Scan III Wavefront Aberrometer. The staff conducts the autorefraction and collects data at the OPD-Scan. She can view that information in the exam room as she adds her own notes. The TRS control tablet has changed Dr. Barber's approach to spending time in the exam room. "Instead of standing and turning dials, I'm sitting at the desk and showing them their choices." There's more face-to-face time for patient education, and with a few more clicks, all of the information is automatically saved to the patient's electronic health record.
The hardest part of the transition was that Dr. Barber was also learning a new electronic health record software at the same time. Despite the learning curve, "it has been a blessing and amazing at increasing efficiency and reducing data error." Here are some of her favorite features and functions of the technology.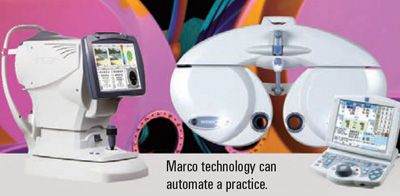 Better Data
Every patient experiences the technology from Marco during his or her visit, and it's led to some interesting discoveries, including at least seven new diagnoses of keratoconus and meibomian gland dysfunction. "Because they weren't contact lens wearers, we had not performed topography," she says. She can show patients the maps of the cornea and give them more information about their eye health, and she has more chair time to recommend lens upgrades and discuss lifestyle-based visual solutions or multiple-pair sales. Dr. Barber says that patients are appreciative when she can stabilize their prescription.
Quick Comparisons
"I used to have to spin the dials to compare patients' old and new prescriptions and, with a patient with astigmatism, it's a lot of work. You're like a magician trying to show them both options fairly instantaneously," she says. Now with a touch of a button, she can let patients make their subjective decision.
More Visual Education Tools
Dr. Barber used to rely on little 3D eye models to teach patients about their eyes, but now she can refer to the point-spread function as a teaching tool for parents to demonstrate how their child sees with and without eyeglasses. "It interprets the blur and can show how the point of light is distorted and then in focus," she says. It can also help her explain to patients who have a high-order aberration (HOA) or other irregularities that their vision may not be perfect, due to the shape of the eye or early cataracts. "I'm a very visual learner; I like to show people what I'm telling them, and the TRS software helps me do
that."
Valuable, Custom Information
The OPD-Scan III records patient data based on more than 20 data points in less than 10 seconds per eye, including angle kappa, HOAs, average pupil power, root mean square value and point-spread function. This technology can present the clinician with a great deal of data, but don't let that overwhelm you, she says. A Marco representative can help identify features and shortcuts. In Dr. Barber's case, the intelligent split prism lens is extremely helpful for checking astigmatism. It offers a simultaneous presentation of the two Jackson cross images with the split prism, which makes cylinder power and axis testing much quicker and easier for both the patient and the doctor than with traditional Jackson cross cylinder testing. She also utilizes the split prism to compare the image from the right and left eyes to look for equal binocularity.
Fast Return on Investment
Dr. Barber says several calculations need to be considered in determining the return on investment (ROI). First is the time-savings that practices can use to add one or more appointment slots per day. Second is the increased per-patient revenue derived from a higher uptake of new pairs of eyeglasses, thanks to the ability to show patients the quick comparison. Third is the savings that result from fewer errors and remakes.
No Pain
Alleviating pain prompted Dr. Barber to investigate and incorporate this technology. It has delivered on that promise—and much more.