The McGee Group announces new releases from its family of partner brands, including Life is Good, Mr Turk, Totally Rimless and XOXO. These well-known lifestyle and apparel brands collaborate with The McGee Group to develop exclusive, fashionable eyewear lines for the market. This collection of frames, which is sure to feature something for everyone in the family, will be available on August 11.
With four new frames, Life is Good is ensuring its brand of optimism reaches deep into the end of the summer season. Bertie, available in Navy and Purple, has a flat metal front on top of a thin eye rim with a beautiful watercolor effect on its acetate temples. Betsy boasts a square-shaped silhouette frame with a larger fit and a rivet detail on its temples. It's available in Black and Green with the latter featuring a green stripe with coffee-colored temples.
Joslyn, available in Blue and Grey, is an easy to wear, rectangular shape with a unique
multicolored acetate, while Reeva rounds out the brand's release with a triple lamination look that puts a fun spotlight on the frame's corners. Available in Black, Blue and Burgundy, it also has metal temples with a subtle end cap detail.
Mr Turk has two new frames available, including Alberti in Navy and Tortoise/Grey. It is an easy-to-wear, slightly oversized square shape with a triple lamination to create stunning colorations. Stirling, available in Cabernet and Navy, is a unisex frame with a rounded shape. It has a five-barrel hinge for extra stability and a unique gradient colored acetate.
XOXO has three new frames entering the market, led by Charlotte and its flattering, easy-to-wear shape. Available in Black, Crystal and Tortoise, it features custom lamination on its edges that is mirrored on the temple tips. Eden, available in Black and Teal, is a lightweight metal frame in a rounded shape with a unique animal print overlay design on its front. Iola rounds out the brand's release with colorways in Black Horn and Blue Tortoise. A more petite-sized frame in a rectangle shape, it has the XOXO metal décor on its endpiece and a unique, laminated acetate.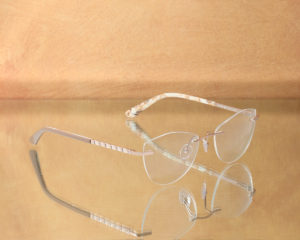 Totally Rimless features two new frames, including Ardor 357 which boasts a flattering, teacup eye shape with stainless steel construction. Available in Dark Silver and Stain Gold, it also has high/low rope ornamentation on its temple. Generate 356, available in Gunmetal and Navy, is an ultra-thin, stainless-steel frame in a deep square shape. It has a low profile and front-loaded, integrated spring hinge temple design.
Featured image is Life Is Good Jocelyn in Grey.