For the past six years, Southern California designer Trina Turk and her "optimistic fashion" inspired by the architecture, landscape and mix of California, has partnered with The McGee Group to bring that bold style to eyewear.
Trina Turk's colorful prints and vivid color palette align with the eyewear collection of sophisticated and casual frames. Sunwear plays a key role in the brand's identity, she says. "The indoor/outdoor lifestyle that the Trina Turk brand represents requires fashionable sunwear to complete the look!"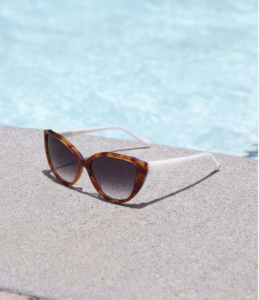 Sunwear can also be a great introduction to a brand. People who are attracted to the bold colors and prints of the sunwear may want to explore the brand's fashion more. Opticians can tell the brand story of Trina Turk, accompanied by point-of-purchase material from The McGee Group, all of which exemplifies California confidence. "Our inspiration remains true to our California roots: signature prints, vivid color, and optimism," says Turk.
The McGee Group Senior Design Director Laura Khligh says the "bold colors, amazing prints and classic silhouettes" of the Trina Turk brand are exactly what makes the collaboration so special. "We follow the colors that Trina uses for each season and execute the prints using custom laminations.  One novel way that we execute a print is by laminating an outline of print onto a tortoise or beautiful translucent color and following that with a pearlized lamination to give a very elevated, dimensional feel to the frame."
It's a sophisticated process that adds dramatic appeal that stays true to the brand. That process starts and ends with true collaboration. Khligh says, "Trina's team sends us its color stories, followed by print artwork. This is where the inspiration and development starts and how it stays true to the brand. Additionally, we meet on a regular basis to review prototypes and discuss design aesthetics."
The beautiful photography that helps tell the brand story supports the eyewear and can be part of the point of purchase displays that practices use to bring a little of the California lifestyle brand into their optical stores.
Optical and sun frames complement the Trina Turk brand line of fashion items, including clothing, swimwear, hats, bags, shoes and jewelry. All Trina Turk pieces are versatile as statement pieces or add a fun twist to your closet staples. "We're equally inspired by new technology and evocative vintage styling," Turk says – a combination that works very well for fashion frames.
The latest release of Trina Turk sunwear is available now, with six new beautiful sun frames slated to launch in January 2023.