When Cheryl Phillips, a sales representative for The McGee Group, walks into one of the doctors' offices in her Illinois territory, there is a pretty good chance she will be wearing her Cheryl P. frames – the frame named in her honor as part of The McGee Group's Vera Bradley Foundation Collection.
Phillips is a breast cancer survivor; she discovered a lump in her breast eight days before her annual mammogram in 2003. The treatment and recovery periods were brutal, she says, but she's happy to say that she's been cancer-free for years now, and she encourages women to be adherent to their annual mammogram schedules. About six years ago, Phillips joined The McGee Group – bringing with her more than 20 years of experience in frames sales and consultation. When she was contacted by designer Amy Moore nearly a year ago that Moore wanted to honor her with a 2022 Vera Bradley Foundation frame, she was touched.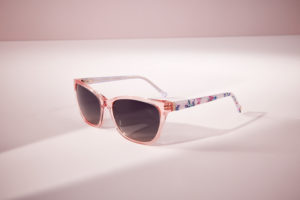 Each year, The McGee Group introduces the Vera Bradley Foundation for Breast Cancer Collection that includes optical and sunwear frames featuring Vera Bradley's annual Foundation pattern.. Throughout the year, Moore keeps this annual release in mind, listening to customer feedback from the community of eye care providers and patients to incorporate into the frame. "I don't always get to have such a direct contact as I did with Cheryl, but this frame allows me to highlight her personality: fun, flirty and feminine in a petite and polarized design," she says. "It had to be polarized," says Phillips. "I encourage every sunglass wearer to choose polarized lenses," she says.
The McGee Group's commitment to the Vera Bradley Foundation is longstanding and significant. The frame company has partnered with Vera Bradley for about 18 years, and the leadership team is committed to the work of the Foundation in advocating for breast cancer research and prevention through awareness. The annual featured frames help the company and eye care practice staff tell the story of the company's support of the Foundation. In fact, the demo lens in these special frames each year have a special logo of the Vera Bradley Foundation. Each year, The McGee Group donates a portion of its profits from the sales of the Vera Bradley eyewear program to the Foundation.
In addition, the company donates about 600 frames to participants in the annual Vera Bradley Foundation for Breast Cancer Classic, a fundraising event featuring golf and pickleball tournaments.
SIGNS OF ENCOURAGEMENT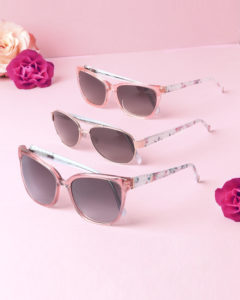 The Cheryl P. is available in three colors: Happiness Returns Pink, Rose Toile, and Black Bandana Ditsy. When Phillips received the prototypes, she and several friends had a photo shoot of them modeling the styles. Now, they each own several of their own. There's a good feeling, she says, in seeing people wear frames that bring breast cancer awareness front of mind.
Moore told Phillips the story of sending one of her namesake frames, along with a note of encouragement, to an eye care provider who is undergoing treatment for breast cancer. Phillips was moved by the company's outreach. The frames represent so much more than a philanthropic effort she says. They're a reminder that someone going through the struggle of treatment is not alone.
Phillips also knows how important that personal support is. Not only does she talk to all of her accounts about the support of the Vera Bradley Foundation, but she also started a foundation that operates in four rural Illinois counties and helps cover bills for people going through cancer treatment.
When patients choose the Vera Bradley Foundation frame, it comes with a cleaning cloth and card insider that explains how the sale of Vera Bradley frames supports the work of the foundation. "It's an honor to have been selected," Phillips says.
The Cheryl P frame, as well as the Kim H and Andrea P frames are available now. More information about this year's Foundation Collection and how The McGee Group supports the Vera Bradley Foundation can be found online at verabradleyewear.com.