The McGee Group announced the release of a new lineup of eyewear from several respected and trusted brands, including Vera Bradley, Life is Good, Jenny Lynn Eyewear, Mr Turk and XOXO. The McGee Group regularly works closely with prominent lifestyle and apparel brands to craft exclusive eyewear lines, and this month's offering once again showcases a diverse collection of high-end, fashionable looks from some of the most well-known brands in the market.
Vera Bradley, one of the top selling eyewear collections at The McGee Group, is unveiling five fresh looks that are inspired by the bright, vibrant patterns that define this iconic brand. Channing, which is available in Java Navy Camo and Love You Lots, features an easy-to-wear shape and slender profile that is punctuated by a soft lift on its front corners. The metal temples boast a two-tone finish.
Available in Citrus Paisley, Colene is a recoloring of this bestselling petite frame. It has a
beautiful green acetate front with subtle striations and coordinating pattern temples. Diane, also available in Citrus Paisley, is another recoloring of a popular frame, this time with gold woven into its design. The open cutout endpiece is done in a diamond pattern with square stones accenting the look.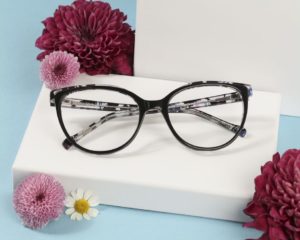 Julieta offers an oversized shape and two-tone lamination, using milling to reveal various pops of color. It's available in Bloom Bloom, Citrus Paisley and Plum Pansies. Rounding out Vera Bradley's lineup in Sharon, which is available in Bloom Boom and Plum Pansies. This is another recoloring of a bestselling look, with a metal frame and layered matte brow.
With four new pieces of eyewear available this month, Life is Good continues to ensure the
brand's optimistic outlook is embraced through a series of fun frames. Carla offers an oversized square shape, utilizing a unique color block concept on its eye rims and temples. It is available in Blue, Frost and Tortoise.
Chris, which is available in Gunmetal and Navy, boasts a lighter, more rounded look that is well-suited for both teens and adults, while a spring hinge makes sure that comfort isn't sacrificed at the expense of fashion. Dean, which comes in Slate and Tortoise, has a softer square shape with a full acetate frame, as well as milling on the front that offer a thinner, lower eye rim. Available in Blue and Grey, Polly rounds out the collection with a dynamic embrace of color through an acetate gradient in deep, saturated colorations and darker coloring extending into the temples.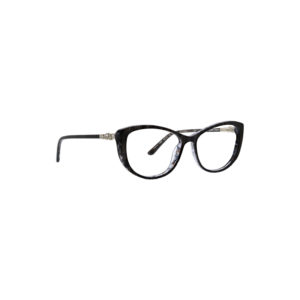 The McGee Group's newest brand, Jenny Lynn Eyewear, has three new fashion forward and
feminine frames, including Captivating which comes in Black and Teal. It's a smaller, petite look with a metal frame and two-tone plating that has a slight uplift at its corners. A braided design yields stone accents on the temples for a stylish finish. Elegant, available in Black and White, is a fashion-forward frame with thick eye rims in a marbled acetate. Luminous is available in Black, Toffee and Cabernet, and is able to
accommodate a wide variety of face shapes.
XOXO has four new frames out this month, including Astoria with its thin, light metal frame and contrast plating that is black on the outside and gold on the inside to offer a trendy look. Available in Burgundy and Matte Black, it also features laser-etched swirl design cutouts on brow plating. Camden, which comes in Black and Teal, has a feminine metal frame with a contrast colored brow and soft uplift. Portland boasts a classic shape that is easy to wear, utilizing a double laminate acetate with zebra print enameled endpieces. It is available in Black and Tortoise. Toledo, which comes in Black/Tortoise, Brown/Rose and Purple, has a more rounded shape and a soft uplift. A unique laser-etched pattern design extends down the brow and temples.
Mr. Turk offers a new unisex frame with Calatrava, available in Walnut and Cedar, which
features translucent colored acetates. Its Jones release, available in Black and Spruce, has a modern, square-shaped frame that combines metal and acetate with contrast plating.