The McGee Group announced the release of its May lineup of eyewear, featuring Badgley Mischka, Trina Turk and Jenny Lynn Eyewear. These well-known lifestyle and apparel brands routinely work with The McGee Group to develop exclusive, fashionable eyewear lines for the market. The May lineup of new frames is a bright, vibrant lineup of looks that is suited for the coming summer months.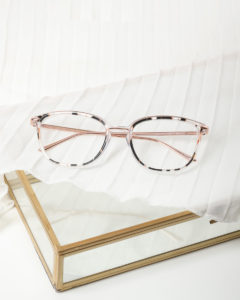 Badgley Mischka has five new frames available including Angeline, which comes in Blush, Black and Blue in a metal and acetate combination frame. A double laminate eye rim features milling that reveals recessed metal. Georgina, available in Black and Toffee, is a traditional, flat metal shape. It has shiny, contrasting Mazzucchelli acetate with a triangular stone décor accented with smaller crystals. Leone features a full rim and flat metal frame with shiny metal drapes that extend up and over a matte base, yielding a layered effect. Available in Cabernet and Sand, it has a modern, oversized silhouette. Marceline, available in Black and Taupe, is a semi-rimless metal frame with contrasting metal corners, while Mariette, which comes in Black and Emerald, features a soft, cat eye frame made of acetate and metal. It has drop temples with recessed stone décor.
Trina Turk has a pair of new frames on the market, including Joya which is a simple, easy-to-wear frame that comes in a rectangular shape. Available in Smoke and Sunrise, it features a five-barrel hinge that ensures comfort and durability. Serena, available in Black and Pink Tortoise, boasts a thick brow line with a thinner lower eye rim made of Mazzucchelli acetate. It has a spring hinge to yield a flexible fit.
Four new frames lead the way for the much-anticipated launch of new frames from Jenny Lynn Eyewear, one of The McGee Group's newest and most in-demand brands. Creative, available in Matte Black and Teal, is a petite frame in an uplifting shape, with delicate stone detailing at the corners. Fabulous, available Lavender and Rose Gold, has a rimless frame with an uplifted eye shape and swoop temples that are accented with stone detailing.
Powerful, available in Claret and Royal, is a full acetate frame that features a new Jenny Lynn metal logo decor on the end piece. It features midrange sizing that accommodate a variety of facial shapes. Splendid, available in Matte Black and Matte Teal, has a flat metal, gradient plating and tonal stone detailing on the end piece.
The McGee Group represents Vera Bradley, Trina Turk, Mr. Turk, Life is Good, Jenny Lynn Eyewear, Badgley Mischka, Ducks Unlimited, XOXO, Totally Rimless, TR Optics and
Argyleculture.