For Jina Schaff, OD, the acquisition of her practice by MyEyeDr was a blessing. She worked for another clinic for 16 years before coming on board with Vision Care Specialists—a seven-location practice in Denver, Colorado, with 16 doctors and 100 employees. While she first came on as an associate, she bought into becoming a partner within a year, and one year later—in October 2019—the practice was sold to MyEyeDr.
Reflecting on the past year, Dr. Schaff is so grateful to have moved in this direction. "Having seven clinics with 100 employees and surviving through COVID would have been a nightmare: making sure people maintained income and benefits," she says. "It took a load off our shoulders. We weren't the ones having to figure it out, and we could focus on making sure the patients were taken care of." Dr. Schaff and her colleagues appreciate the leadership from MyEyeDr. "We see the hard work and effort that went into creating the MyEyeDr. COVID-19 protocols by MyEyeDr. Chief Medical Officer Artis Beatty, OD, allowing everyone to feel safe."
SHARED EXPERTISE
When it came to COVID-19 protocols, the doctors at the practice were advised down to the details. "Colleagues would ask, 'Are you worrying about this?' And I would say, 'No, I'm not.'" As soon as a patient would enter the clinic, their temperature would be checked, they would be given a new mask and their hands would be sanitized. "I see a lot of immunocompromised patients who feel safe enough to come see us," she says. On a personal level, Dr. Schaff's employment through MyEyeDr proved to be a boon, as well. "I'm a single mom of two children, and maintaining an income through COVID was a blessing."
When the practice ownership transitioned in November, no one predicted the upset that would occur less than five months later. "In retrospect, the timing of their decision was perfect," she says. "We are all hoping to maintain revenue, of course, but we weren't trying to figure out how each employee was going to be paid." Dr. Schaff and a group of fellow Colorado doctors put together a fund for the Colorado employees' relief. "We wanted employees to know we had their backs," she says. All MyEyeDr. Employees were also supported by the One Family Fund that CEO Sue Downes started with her $50,000 donation.
GIRL POWER
"One thing I liked about MyEyeDr was the fact that Sue Downes is the CEO. I like female leadership—girl power. Also, we were able to continue practicing the way we always have," she says. For Dr. Schaff's specialty contact fits, she can continue to allot the appropriate amount of time to see her patients.
"No one was dictating how I managed my patients. MyEyeDr was receptive to listening. We felt that we were heard," she says. For Dr. Schaff, who spent much more of her career as an associate and not as an owner, finding herself as an employed OD again is not unfamiliar. "It's been nice for me to have that perspective," she says. "Some longer-term owners may have a harder transition not being the person in charge or making the ownership decisions. I counsel them, 'Give it time.'" She notes the longstanding reputation and history of MyEyeDr in its 20-year tenure. "This transition has worked for a lot of clinics."
NATIONAL PRESENCE
Because of MyEyeDr.'s national reach, Dr. Schaff and her colleagues are able to provide service to even those patients who move away. "I can pull up the MyEyeDr. directory and say, 'Your records are accessible from any MyEyeDr. location—no need to transfer your records or sign a records release.'" She also appreciates being on the receiving end of this system. "We have patients who have moved here and come to us because we're a MyEyeDr. practice. They might not have found us otherwise," she says.
More recently, Dr. Schaff has been using her talents and Colorado connections to find practitioners statewide to add to the MyEyeDr family. "It has been such a fun opportunity," she says. "I haven't scratched the surface of the leadership opportunities available through MyEyeDr. A lot was tabled during COVID-19, but the organization has programs for business management training." She looks forward to her continued education and growth. "I love the business aspect of optometry and being able to learn more in that department would be very intriguing." Employees and doctors can log into MyEyeDr. University to further their knowledge and talents in any department they are interested in, from products to patient care to how to manage during a pandemic.
Continued education is a passion for Dr. Schaff; both for herself and her staff. "I've spent so many years looking at eyes. Expanding my skills is interesting," she says. "The same is true for our techs or our opticians—there is more growth and opportunities than they could have had, even with an organization as large as Vision Specialists." Employees—including doctors—who need to relocate may be able to do so within the company, not losing hard-earned rank or tenure.
PHILANTHROPY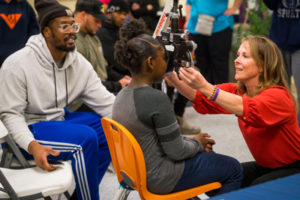 Dr. Schaff has also always had a heart for philanthropy; she was one of the founding doctors with Von's Vision: a nonprofit begun by Denver Broncos linebacker Von Miller to bring vision services to kids in need. She also has big plans for her future. "Knowing my kids will graduate high school in the next five years or so, my ideal goal in life is to travel around the world providing philanthropic eye care in addition to seeing patients," she says. "If I can help grow philanthropic efforts within MyEyeDr that would be very exciting."
Click here to see the Von's Vision video featuring Dr. Schaff.