With support from MyEyeDr., ODs are leading beyond the lane to expand the boundaries of optometric care. Whether optometrists are passionate about advocacy, organizational leadership, education, or philanthropy, they're empowered to explore their unique impact. For Jina Schaff, OD, MyEyeDr. gave her the flexibility to take her passion for philanthropic eye care around the world.
Dr Schaff had been planning to travel to Rwanda to provide eye exams for children in need in 2020. Her friend, Susan Hollern, the founder of Hope Haven, had spent nearly a decade asking her to bring her eye care experience overseas to help children who needed it. Dr. Schaff felt ready to make the trip, but the COVID-19 pandemic put a pin in her travels for another year.
By 2021, she was able to get her plans back in order. Dr. Schaff took her two children with her on the 40-hour journey to Rwanda, where she spent five days providing eye exams to hundreds of local children.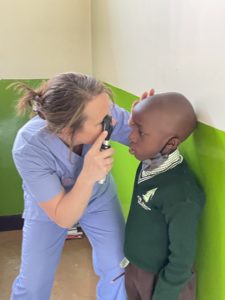 SUPPORT AT HOME
As a clinical director in her local market of Denver, Colorado, Dr. Schaff explained that she felt a great deal of support from her company as it provides opportunities for trips like this. MyEyeDr. provided financial support for the trip, gave Dr. Schaff additional vacation time and also sent her with cases for the hundreds of pairs of eyeglasses she brought with her on her trip. "The fact that they have such a philanthropic outlook and are wanting and willing to help those in need is really important to me," Dr. Schaff says.
PUTTING IN THE WORK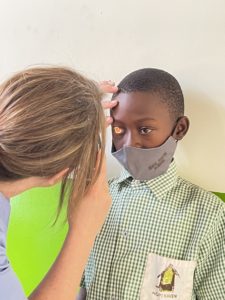 To ensure that she had the necessary supplies and equipment once she arrived, Dr. Schaff started planning. She shipped a spare autorefractor that she could no longer use. "It still worked to measure patients' prescriptions," she explains. "I boxed it up and sent it back to Rwanda with my friend Susan, and they were able to screen a lot of the patients for me before I got there, so I could really focus on the patients who needed to be seen."
Once there, she developed what she described as an assembly line to treat the patients. Dr. Schaff traveled with her colleague, Jamie Anderson, OD, and the two reinvented the wheel to create a system. "I would start the exam with autorefraction and checking the kids' retinal health, and then they would go to Dr. Anderson for distance and near visual acuity, retinoscopy and their prescription. The final step was meeting up with both of my kids and the other high school and college volunteers to pick out the frames that they liked the best. I taught the volunteers how to tell when frames are too big or too small, and they had so much fun being with other kids and trying on the different frames."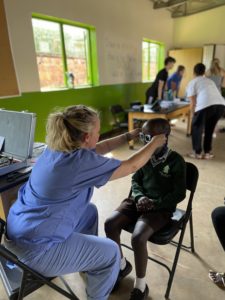 Prior to the trip, Dr. Schaff gathered hundreds of pairs of glasses, rewetting and allergy drops and sunglasses. Eye strain and dry eye are both prevalent because of digital device usage, and the bright sun and high temperatures mean sunglasses and rewetting drops are essential. "After I had all the kids' prescriptions, I placed orders for eyeglasses through the Essilor Vision Foundation which were mailed to my house. Then, I took them to the clinic, verified that they matched my orders, packaged them in the cases MyEyeDr. provided and started dividing them up into suitcases. Through all of this, I learned that about 120 pairs of glasses weigh 50 pounds," Dr. Schaff says.
She and her children missed seeing the young patients' reactions, but "this was a life-changing, bucket-list moment for me," she says. "One day, I was standing at the school early in the morning before anyone else was awake, just overlooking the whole valley, and I couldn't believe I really pulled it off. The Rwandans are so amazing. When you think about the genocide they've experienced, they are so grateful and appreciative and just the nicest group of people you could surround yourself with. It was also so eye-opening for my kids to realize how lucky they are to have the life they get to live."
NO STRANGER TO HELPING THOSE IN NEED
Earlier in her career, and more recently as an associate and then a partner in a seven-location practice that became part of the MyEyeDr. network in 2019, she has been involved in regional philanthropic efforts. She has worked closely for the past 10 years with Denver Broncos linebacker Von Miller, providing support and vision services to children through his nonprofit foundation, Von's Vision. "My passion is getting eye care to children who need it," she says. "Without the opportunity for them to get glasses, it impedes their ability to learn. Teachers may think students aren't engaging, but a lot of times, they just can't see. Any way that we can get to those kids and get them the eye care they deserve and desperately need is the goal."
Her work with Miller's organization has led to the opening of several eye care clinics in Boys and Girls Clubs across Colorado., Dr. Schaff works with Miller to bring eye care to the children who need it. "Many parents are working two jobs and don't have the luxury of taking time off. Anything we can do to bring eye care to kids in need is a must."
Dr. Schaff has also been instrumental in working with MyEyeDr. in screening children in Denver schools. "During COVID, the schools didn't really want us coming inside, so students could come to our offices on Sundays, when we're typically closed to get vision screenings. We have the support of MyEyeDr., and I'm lucky to work for an organization that wants to help provide kids with the necessary vision care."
As for returning to the spot that started her international philanthropy efforts, Dr. Schaff says going back to Rwanda is definitely one of her goals. "I'd want to go back every year if I could, but my hope is to be back there next year."