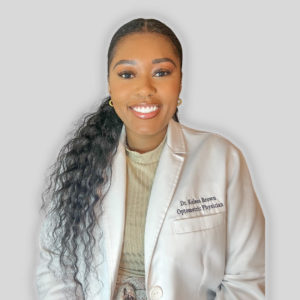 When Kelsea Brown, OD graduated from Pennsylvania College of Optometry at Salus University two years ago, the world was amid the COVID-19 pandemic. Right after graduation, she joined MyEyeDr. in Atlanta, Georgia, where she now provides comprehensive care and disease management services. Although the transition from new graduate to full-time doctor can be difficult– especially during a pandemic– Dr. Brown found that MyEyeDr. made the experience as smooth as possible.
Graduating during the pandemic made Dr. Brown's fourth year atypical. Her rotations were cut short due to most practices shutting down to routine care, and she finished her final year with virtual work instead of in-person practicing. She says she was still learning a lot, but it was a tough ending to her optometry school career. "You learn to roll with the punches," she says.
Dr. Brown started looking for jobs and realized there was a large range of career options. She wanted to work somewhere close to home, with a helpful staff and a wide-ranging patient demographic. She found what she was looking for at MyEyeDr.
She started off at the practice seeing patients every 30 minutes. She now sees a patient every 20 minutes but says MyEyeDr. gave her the time to get adjusted. She says it was nerve-wracking to be a new grad on top of the stress of the pandemic and starting a new job, but she appreciated that MyEyeDr. didn't put additional pressure on her but rather guided and supported her. Her worries that her new grad status and young age would impact how patients perceived her soon dissipated.
MyEyeDr. also helped prepare Dr. Brown with a more solid foundation for her future through its student loan repayment program. "It helps take one more stress off of me every month," she says. The company also assists new grads with the orientation process and reimburses practitioners for license and renewal fees. Additionally, MyEyeDr. provides opportunities for continued education and fulfills dues for State Optometric Associations.
Dr. Brown also finds lots of opportunities to network, thanks to MyEyeDr., which often hosts events led by doctors and representatives. These events allow her to meet her colleagues, share ideas and discuss new technology. "MyEyeDr. always offers more opportunities to learn," she says.

Dr. Brown has also been impressed with MyEyeDr.'s approach to having a work-life balance. The company's main concern is the patient, but the ethics is that eye care professionals have lives outside of work.
MyEyeDr. provides doctors with an iPad to make their day easier, which also allows her to complete her charting. With the marketing and scheduling managed by MyEyeDr., Dr. Brown appreciates that she can finish her day and head home, where she can spend time with her fiancé and their cat, Pepper, and prep for their upcoming wedding.
She says that MyEyeDr. is consistently on top of things that need adjustments or improvements. Had she chosen to open or work in private practice, more of those duties would fall to her, she says. "It's nice not to have that extra stress on my plate right now," she says. She can spend more time mentoring students and making lasting connections, which allows her to fulfill both her personal and professional growth goals.
When Dr. Brown was looking for a full-time position, she knew what she wanted to do but didn't know where to find it. A friend at MyEyeDr. told her it was a great place to work and recommended she apply, and she has been with the company ever since. "If I wasn't happy with what I'm doing, I wouldn't still be here," Dr. Brown says. "MyEyeDr. is a great place to start."