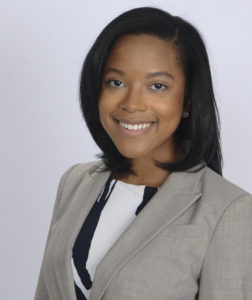 As an optometry student, T'sani Watson, OD, fell in love with the eye care field but was surprised by the lack of diversity within it. She was completing her rotations in Veterans Affairs Hospitals and noticed that the patients felt a disconnect between themselves and the doctors. The patients were getting access to care, but the personal connection and trust was lacking. "The patients were looking to me for answers, even though I was still a student," Dr. Watson says.
"Diversity is critical," she says. "Patients come from diverse backgrounds. Doctors should, too." Dr. Watson finds that patients are more comfortable and honest with their care providers if they feel a sense of connection, whether it's through a shared language, background or common culture.
Dr. Watson knew that she wanted to make a difference in the field when she graduated and started looking for a place that would allow her to do that. When MyEyeDr. recruiters visited her campus, she says she connected with their passion immediately. "I was impressed by what MyEyeDr. doctors were achieving in the industry," she says. "They were the leaders." She found that not only did MyEyeDr. support each student's individual passions and journey, but they advocated for diversity in a way that not all practices did. She joined MyEyeDr. after completing an ocular disease residency three years ago and still finds that its outreach programs and dedication to diversity are exactly what she was looking for.
MyEyeDr. provides their doctors with access to community engagement programs and continued learning opportunities. The company also provides all doctors and associates with resources on diversity, inclusion, discrimination and harassment training. "It is easy to connect with and learn from the MyEyeDr. program," Dr. Watson says. "The sky is the limit."
Dr. Watson has recently been promoted to the position of Clinical Field Director within MyEyeDr. She has had the opportunity to recruit colleagues into the MyEyeDr. system, and she says they are doing great. "They are thriving, not just as doctors but as leaders. MyEyeDr. is increasing diversity in the field and improving the patient and provider experience," Dr. Watson says. "It's been so exciting to see, and there are more great things coming."