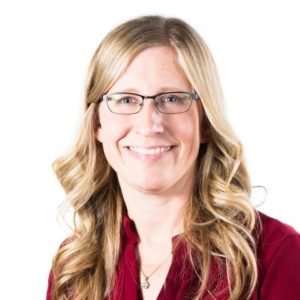 Heather Day, OD, has been providing her hometown of Statesville, North Carolina, with eye care for more than 16 years. She always wanted to give back medically to her community, and after mentoring from her childhood optometrist, she decided to pursue optometry. For the first few years of her optometry career, Dr. Day worked with an ophthalmology group, where she was able to hone her skills and receive guidance on how to operate a successful practice. In 2009, Dr. Day transitioned into opening her own private practice – still in her hometown – where she was able to grow a large patient base in the town she loved.
CHOOSING A PARTNER
After seven years of growing her practice, Dr. Day decided to partner with MyEyeDr. to help her grow her business even further. "I had reached a successful goal of growing a profitable private practice; however, I wanted to grow, and I didn't really know how to do that," she says. "I also spent many hours of my day working on insurance credentialing, getting paid by insurance companies and troubleshooting IT breakdowns that took a lot of my valuable time, when I could be focused on patient care."
MyEyeDr. stood out as a partner because of the company's professional knowledge of the field and successful operations team. Representatives worked with Dr. Day to implement new systems that have allowed for continued growth. "This partnership has helped me to be more available to my patients and my family, and it took away a lot of the 'headaches' that private practice ownership threw my way," she explains.
Dr. Day describes the three-month transition process with MyEyeDr. as "seamless. I had a team of seasoned integration leaders. All communication was clear, scheduled and agreed upon before implementing."
Since selling her practice to MyEyeDr., Dr. Day believes it has changed her both professionally and personally. Not only does she feel better equipped to treat her patients, but the partnership has given her more time to spend with her family. "With such huge operational, managed vision care, and IT support, I can now see patients more effectively and still have time to take my daughter to swim practice," she says. 'I've also added more technology to the practice and have grown a large glaucoma care practice over the past six years."
GROWING INTO LEADERSHIP ROLES
Just two years after selling her practice to MyEyeDr., Dr. Day was offered a position as a Clinical Field Director for Western North Carolina. This new role gave her the opportunity to share best practices with her colleagues, as well as support other doctors in their growth and development. "This role taught me how important it is to have peers to lean on. Every office and doctor I visited, I learned a new best practice that I took back to my team and shared with other doctors across the state. This collaborative learning environment teaches us how to work as 'One Team' with a singular focus in mind: providing the best patient experience possible."
Dr. Day continues to advance her career at MyEyeDr., currently serving as a Regional Clinical Field Director, a role in which she is more intricately involved in strategic business success and leadership.
"I remember six years ago sitting in my little private practice office thinking, 'How in the world do I grow a business, take care of all the patients, and have time to raise my daughter?' By learning from those who do it best, I've been able to accomplish all of those and more. I've learned it's okay to take time for myself. I've learned it's okay to ask for help."
LESSONS LEARNED
Dr. Day credits her success to continued education and a commitment to learning. She says that she's "learned more about leadership and business success in the past four years than I ever imagined." Now, her goal is to continue to empower other eye care professionals to reach their desired level of success.
"I've learned that clear, concise communication is key. I've also learned that patients depend on us to make recommendations regarding what type of eyewear would serve them best. They come to us for guidance, and we need to help them choose what solutions would be the best for them. I've learned that partnership with your peers is the key in growing a successful practice and teaching others how to lead in their own practices."
LOOKING TO THE FUTURE
Dr. Day plans to continue this path with MyEyeDr., and she hopes to become a mentor for doctors who are interested in following her path. Her time with the company over the past several years has changed the course of her career.
Dr. Day offers other practitioners who are contemplating selling their practices this advice: ask questions. "We have lots of doctors who have been in your shoes and know how stressful such a big decision can be," she says.