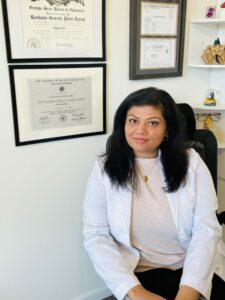 Rachana Patel, OD, of Chicago, Illinois, has found that there's nothing "remote" about providing remote care to patients via today's technology and the setup that she uses with Access Eyecare Services (AES), a partner of the National Vision Doctor of Optometry network*.
Prior to joining AES in 2022, Dr. Patel had been working for National Vision where she provided in-office patient care at America's Best Contacts & Eyeglasses for a few years. Before that, she worked for another company that was starting to figure out how remote care fit into an optometric care model. This sparked her curiosity. When the opportunity to join AES presented itself, she joined the company and seamlessly transitioned to the remote care practice model. She soon moved into the role of Lead Optometrist of a four-doctor team providing remote care.
Dr. Patel says that 17 years of clinical experiences in the exam lane is what has made her so comfortable moving to this relatively new model. "To me, that was necessary for my confidence in performing remote exams. My clinical intuition and experience in one setting confirms that I can provide a high level of care in this setting, too," she says.
A DIFFERENT KIND OF OFFICE
These days, when Dr. Patel comes to work, she goes to a room inside her home. She sits at a desk with a large screen showcasing a dashboard that lets her know where her next patient is in the pretesting cycle. Patients come to an office, just as they would for a traditional in-office exam. They are greeted by a technician who guides the patient through automated visual fields, slit lamp video and retinal photos. The same technician then performs other entrance testing like extraocular movement, pupil and cover tests, while Dr. Patel is on video watching the tests being performed.
"I have had people ask me how we can call this remote care when the patient still needs to go to a specific location." But the difference is that the doctor is remote, not the patient. Patients go into their local optometry office, which may not have a doctor available on-site, for a remote exam. At the Practices AES partners with to provide remote doctors, the remote care option is often available six days a week, and there's very little wait. Patients who want or need to get in to see a doctor may have to wait sometimes because the schedules are booked days or weeks in advance. Or that location just does not have a doctor at all. Remote care provides a solution to that problem by increasing access to care" she says.
HOW IT WORKS
The system queues up the next patient, and the next available remote OD who holds an optometry license in the patient's state, will meet that patient on-screen. Dr. Patel is licensed in New York, Georgia and Illinois, so she can see patients in physical locations in those states.
When she is ready for her next patient, she reviews the images, history and any previous charts or prescriptions that are available. Then she'll join the patient and the tech in the exam lane via a video conference call. "Technicians are skilled at performing the in-office tests. But it's optometrists who are interpreting them and piecing together the information. That's no different than when I walk into an exam lane and the test results are waiting for me there," she says.
This is no kiosk or online test, she says. "It's very real. I control the phoropter with my mouse. We perform a slit lamp video, and I can ask for additional tests or re-tests as needed. I also can interact with the patient in real time, having a conversation through the live video call. This allows me to maintain that important doctor-patient relationship and trust." Most importantly, she can choose to send that patient to an on-site doctor if she feels that's necessary. "If we can't get clear images or I don't feel good about something, I can tell the patient that it doesn't mean that there's anything wrong, but we should address this condition or image quality first," she says.
NO RUSH
"I don't feel rushed. If the patient I'm with needs a little more time, I can devote that."
Not only does she appreciate the pace, but she also says it can be critically important to get patients in for urgent care. Just recently, she saw a 17-year-old whose images troubled Dr. Patel. Based on the images, she could see papilledema and suspected pseudotumor cerebri. "She was giving me vague responses, but something didn't feel right. Her mother was in the room with her, and I said, 'If this were my daughter, I'd take her to the ER today.'"
Dr. Patel says that she's thankful the mother listened and called her with a follow-up three days later. Her daughter required a lumbar puncture because of the high level of cerebral spinal fluid. "If I had seen this patient on-site, I would have made the same recommendation," Dr. Patel says. "But the difference was when I saw the patient. She didn't have to wait two weeks for an appointment. Thanks to the remote option, we had the capability to get her in right away."
BETTER BALANCE
Dr. Patel says the shift to providing remote care has also had a positive impact on her home/life balance. "I have a 10-year-old and a 12-year-old, and my aging parents live next door. I am more productive and more engaged with my family, my fur babies and my community because I'm not commuting up to two hours a day," she says.
That's contributes to an improved lifestyle. "I started working on my health more. I exercise and take walks. I meal-prep and take care of the things that need to be done around the house. I can take my mom to her doctor's appointments." She is able to do these things during the hours she has regained , thanks to no longer having a commute. "It wasn't that my work was causing me stress. But the time commuting and being away from home was definitely stressful," she says. Plus, the AES remote care doctor team helps each other out if there are issues.
Dr. Patel says that she enjoys the pace, the challenge and the patient interaction with remote care. "The technology and our capabilities are going to keep getting better."
See more stories about doctors who have made their career at National Vision locations. here.
*Access Eyecare Services, LLC ("AES") is a partner of the National Vision Doctor of Optometry network. As a staffing services company, AES employs qualified licensed optometrists nationwide and leases them to Practices in the network to provide in-person and remote care in a variety of states where teleoptometry encounters are permitted. National Vision, Inc. and the Independent Practices affiliated with the National Vision Doctor of Optometry network have selected AES to provide optometrists for remote care needs.